Tonsak Resort Edit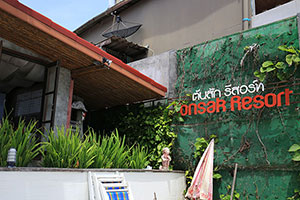 No. of Rooms:

30

Area:

Koh Samed

Address:

8/5 Koh Samed, Moo 4 Tambol Phe, Amphur Muang, Rayong 21160
Tonsak Resort - Koh Samed is located in the area of Sai Kaew Beach, Tonsak Resort enjoys a commanding position in the restaurants, beaches, nightlife hub of Koh Samet.
With its convenient location, the hotel offers easy access to the city's must-see destinations. From here, guests can easy access to all the lively that the city has to offer. Steps from the beach, nice bar and restaurant serving international food and cocktails.

At Tonsak Resort, every effort is made to make guests feel comfortable. The hotel provides the best in services and amenities. The hotel's facilities are restaurant, Wi-Fi in public areas, safety deposit boxes, tours, family room.
For the rooms the interiors demonstrate an attention to detail with painted walls and accents, large clean beds and nice soft lighting. Come with the quality room facilities, including complimentary bottled water, air conditioning, in room safe, internet access – wireless (complimentary), refrigerator. The hotel offers recreational facilities such as garden to make your stay truly unforgettable.
Enjoy unparalleled services and a truly prestigious at our Tonsak Resort. This is a good luxury choice at great value in this price range.

Period
Price (THB)
Extra Person (THB)
Extra Children Breakfast (THB)
Room Type : Beachfront House See All
01 Oct, 2017 - 31 May, 2018
5,866

( ศุกร์ เสาร์ ) 6,376

700
12 Aug, 2016 - 14 Aug, 2016
7,014
700
11 Feb, 2017 - 13 Feb, 2017
7,014
700
29 Apr, 2017 - 01 May, 2017
7,014
700
08 Jul, 2017 - 10 Jul, 2017
7,014
700
21 Oct, 2017 - 23 Oct, 2017
7,014
700
13 Apr, 2017 - 16 Apr, 2017
7,014
700
24 Dec, 2017 - 03 Jan, 2018
7,014
700
Room Type : VIP House See All
01 Oct, 2017 - 31 May, 2018
3,571

( ศุกร์ เสาร์ ) 4,081

700
12 Aug, 2016 - 14 Aug, 2016
4,718
700
11 Feb, 2017 - 13 Feb, 2017
4,718
700
29 Apr, 2017 - 01 May, 2017
4,718
700
08 Jul, 2017 - 10 Jul, 2017
4,718
700
21 Oct, 2017 - 23 Oct, 2017
4,718
700
13 Apr, 2017 - 16 Apr, 2017
4,718
700
24 Dec, 2017 - 03 Jan, 2018
5,229
700
Room Type : Deluxe B See All
01 Oct, 2017 - 31 May, 2018
4,463

( ศุกร์ เสาร์ ) 5,101

700
12 Aug, 2016 - 14 Aug, 2016
5,739
700
11 Feb, 2017 - 13 Feb, 2017
5,739
700
29 Apr, 2017 - 01 May, 2017
5,739
700
08 Jul, 2017 - 10 Jul, 2017
5,739
700
21 Oct, 2017 - 23 Oct, 2017
5,739
700
13 Apr, 2017 - 16 Apr, 2017
5,739
700
24 Dec, 2017 - 03 Jan, 2018
6,249
700
Room Type : Deluxe A See All
01 Oct, 2017 - 31 May, 2018
3,061

( ศุกร์ เสาร์ ) 3,571

700
12 Aug, 2016 - 14 Aug, 2016
4,081
700
11 Feb, 2017 - 13 Feb, 2017
4,081
700
29 Apr, 2017 - 01 May, 2017
4,081
700
08 Jul, 2017 - 10 Jul, 2017
4,081
700
21 Oct, 2017 - 23 Oct, 2017
4,081
700
13 Apr, 2017 - 16 Apr, 2017
4,081
700
24 Dec, 2017 - 03 Jan, 2018
4,463
700


All above rates do Not include the admission fee to Koh Samed National Park.



Pets and

Cooking are not allowed



One Way transfer by van: From or to Suvarnabhumi Airport or City of Bangkok: 4,500 Baht (Travelling time: 3 hrs. approx.)


Surcharges

Period
Extra Charge(Adult)
Extra Charge(Children)
Minimum Night(s) Stay
Asaraha Bucha Day ( 16-21 Jul)
16 Jul, 2016 - 21 Jul, 2016
-
-
2