Thiva Pool Villa B Edit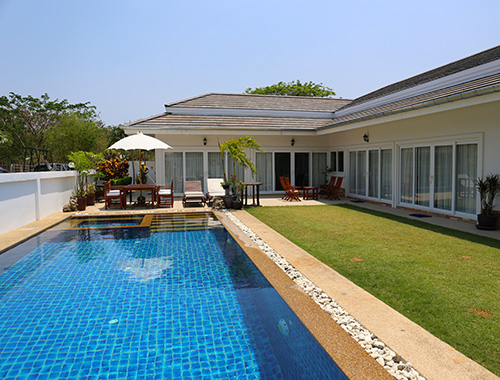 No. of Rooms:

1

Area:

Hua Hin

Address:

39/23 Avenue Hua Hin 88, T. Hua Hin, A.Hua Hin, Prachuabkhirikhan 77110
Thiva Pool Villa Hua Hin B is situated in Avenue Hua HIn 88 Project I, close to HuaHin Provincial Court, surrounded by community villages, shops, etc.
Thiva Pool Villa B offers 3 bedrooms and 3 bathrooms, European kitchen, sofa, living room, private pool, garden and parking lot for 2 cars. The villa acoomodates up to 10 persons.
All rooms are equipped with air-condition system. Master bedroom offers 1 king-sized double bed, bathtub, shower, dressing desk and wardrobe. The 2nd and 3rd rooms have 2 separated twin beds, 32" flat-screen TVs, wardrobe, hot-cold shower bathroom.
There are 24-hr security system, large common pool, car-parking site and free scheduled car transfer to HuaHin town i.e. 4 times a day.

Period
Price (THB)
Extra Person (THB)
Extra Children Breakfast (THB)
Room Type : 3 Bedroom Villa See All
04 Mar, 2016 - 31 Oct, 2017
8,900

( ศุกร์ เสาร์ ) 11,900

500
16 Jul, 2016 - 20 Jul, 2016
12,000
500
09 Apr, 2017 - 17 Apr, 2017
12,900
500
29 Apr, 2017 - 01 May, 2017
12,900
500
05 May, 2017 - 07 May, 2017
12,900
500
10 May, 2017 - 11 May, 2017
12,900
500
08 Jul, 2017 - 10 Jul, 2017
12,900
500
11 Aug, 2017 - 13 Aug, 2017
12,900
500
21 Oct, 2017 - 23 Oct, 2017
12,900
500


Villa will add a surcharge of 500-1,000 THB if dirty washing up is left at the time of departure. This will be deducted from the refundable security deposit.


Smoking inside villa is not allowed. Fine 10,000.00 THB will be charged


Pets allowed 500 Baht / night However, there must be a cage or leash. And swimming pool


Electricity is free


** REMARK : Rate is subjected to change without prior notice


Promotion : Hello Low Season

Period 01 May, 2016 - 30 Sep, 2016

Room Type
Price
Extra Person
Extra Children Breakfast
3 Bedroom Villa
8,900

( ศุกร์ เสาร์ ) 11,900

500
Promotion : Hello High Season

Period 01 Oct, 2016 - 29 Dec, 2016
Can not use this promotion for Long Weekend
Room Type
Price
Extra Person
Extra Children Breakfast
3 Bedroom Villa
8,900

( ศุกร์ เสาร์ ) 11,900

500
Promotion : New Year

Period 30 Dec, 2016 - 01 Jan, 2017

Room Type
Price
Extra Person
Extra Children Breakfast
3 Bedroom Villa
13,900

( ศุกร์ เสาร์ ) 0

500
Promotion : Hello Low Season

Period 02 Jan, 2017 - 30 Apr, 2017

Room Type
Price
Extra Person
Extra Children Breakfast
3 Bedroom Villa
8,900

( ศุกร์ เสาร์ ) 11,900

500