Thiva Pool Villa Hua Hin Edit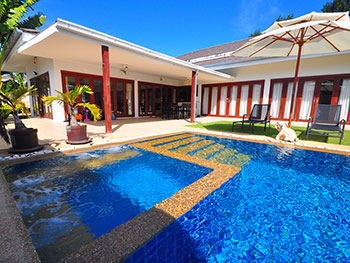 No. of Rooms:

1

Area:

Hua Hin

Address:

39/26 Avenue Hua Hin 88, T. Hua Hin, A.Hua Hin, Prachuabkhirikhan 77110
Thiva Pool Villa Hua Hin is located in Avenue Hua Hin 88 Project, Soi Hua Hin 88 in Hua Hin downtown, Prachuab Khirikhan province. Nearby attractions include:
3.9 kms to Hua Hin Beach
3.0 kms to Hua Hin Market Village
4.0 kms to the Bluport Resort Mall - Hua Hin
3.2 kms to Hua Hin Railway Station
4.2 kms to Chatchai Market (Hua Hin Night Market)
This beautiful detached pool villa is designed in a combination of Thai and Bali style, decorated with Thai-Lanna wooden furniture. Amenities outside the building include a stunning outdoor swimming pool, garden, 2 sun beds, outdoor dinning tables, parking sites for 2 cars inside the villa, 24-hour security, free scheduled shuttle bus, and a large communal area with pool.
4 bedrooms consist of 1 master room, 2 twin bed rooms and 1 child room. This villa is sutable for 8 persons but can accommodate up to 12-14 persons. 2 sets of sofas in the living area can apply for another 4 persons.
The 1st Room is the largest one equipped with 1 king-sized bed, centrailzed air-conditioner with a remote controller, private bathtub and rain shower, closet and dressing desk.
The 2nd and 3rd rooms are twin beds, private bathroom, rain shower, closet, 32" digital flat-screen TV and lamp.
The 4th room is suitable for 2-3 young persons, equipped with 32" flat-screen TV and DVD player, and no bathroom.
Within the villa, there are a fully fitted European kitchen, 2 refrigerators, spacious living area, 55" Curved Digital Smart TV accessible to Internet and Youtube-Karaoke, a set of bluray and home theatre, dining table, kitchenware, BBQ charcoal stove, CCTV, etc. WiFi is available for free of charge.
We do not restrict any nationality to stay in this villa. All of you are welcome.
*6,000 Bht to be deposited in case.
*Please do not make noise outside the villa beyond 22.00 hrs.

Period
Price (THB)
Extra Person (THB)
Extra Children Breakfast (THB)
Room Type : 4 Bedrooms 3 Bathrooms See All
05 Feb, 2017 - 30 Sep, 2018
12,500

( เสาร์ ) 15,900

700
12 Aug, 2016 - 13 Aug, 2016
13,900
500
22 Oct, 2016 - 24 Oct, 2016
15,900
700
03 Dec, 2016 - 05 Dec, 2016
15,900
700
10 Dec, 2016 - 11 Dec, 2016
13,900
500
27 Jan, 2017 - 01 Feb, 2017
15,900
700
11 Feb, 2017 - 12 Feb, 2017
15,900
700
12 Apr, 2017 - 16 Apr, 2017
14,900
700
08 Jul, 2017 - 09 Jul, 2017
15,900
700
28 Jul, 2017 - 29 Jul, 2017
15,900
700
12 Aug, 2017 - 13 Aug, 2017
15,900
700
13 Oct, 2017 - 14 Oct, 2017
15,900
700
13 Oct, 2017 - 23 Oct, 2017
15,900
700
24 Dec, 2017 - 03 Jan, 2018
16,900
700


The above rates are not inclusive of daily breakfast.


Occupancy Policy:
- Check in and out Time: after 14:00 hrs and before 11:00 hrs
- Early check – in and late check - out are subject to availability.
- Late check – out / early check – in : These will be billed as an extra charge per hour.
Normal occupancy is 6 persons with given beds. Maximum occupancy is 12 persons without any extra charge.


Child Policy:
- 0-6 yrs old: no charge, but not more than 2 children;
- 6-14 yrs old: half of adult price i.e. 250 Baht/child;
- over 14 yrs old: considered as an adult; and
- neither baby cot nor baby sister is available.


Refundable Deposit is to be placed by the guest upon arrival or before, subject to our discretion on case by case basis. Without any damage on the properties and equipments, this deposit will be returned to the guest after check-out within 24 hours.
- 6000 Bht to be deposited in case of less than 12 guests.
Smoking within the villa and pets are strictly prohibited. There is a fee of to 5000-10,000 per case.


Loss of House Key:
There is a fine of 1000 Bht in a replacement but please contact our customer care immediately.


Guest Obligations:
-The guests are obliged to treat the property and its contents with due care and consideration in a manner normally and socially accepted and are expected to use all items within the property, in a safe and responsible manner;
- Any damage caused to the fabric of the property or its contents WILL be deducted from the refundable security deposit. Damages in excess of said deposit WILL be charged at full replacement / refurbishment cost; and
- Any damage, malicious or accidental MUST be reported IMMEDIATELY to our Customer Care department. In the event of a dispute, arbitration will be by the Police or the Thai courts and the laws applicable within the Kingdom of Thailand will apply.


Water & Electricity
- The prices of all our properties include a daily allowance for free mains water and electricity. Meter readings, the property itself and its inventory will be checked with you, both on arrival and departure;
- 160 Kw units allowance free per day.
- Please switch off your air conditioning when not required.
- If your free allowance is exceeded, a charge of 10 (ten) Baht per unit will be made. This is deductible from your refundable security deposit on check-out.




Personal Safety
- Guests are requested to take care and ensure when out or asleep that all windows and doors are securely shut;
- Anyone caught jumping out of the windows into the swimming pools will be asked to vacate their property immediately; and
- All guests are strongly advised to ensure that they purchase their own travel insurance, covering personal accident, theft or loss of personal effects and comprehensive medical expenses whilst visiting Thailand.


Swimming Pools
- Most of our properties have a private pool and some also offer the use of a communal pool;
- We cannot accept any liability for any injury caused as a result of the use of the pools proper or otherwise; and
- It is the parents' responsibility to take care and ensure all children are supervised at all times e.g. some villas offer the depth of water level.


Liability & Force Majeure
- The property owners and we cannot accept any liability whatsoever for death, personal injury, accidents, loss or damage to persons or personal effects however caused; and
- Neither property owner nor we shall be liable to the other party for failing to perform its obligations because of circumstances beyond their control.


Surcharges
- Hotel / Owner will add a surcharge of 600 THB if dirty washing up is left at the time of departure. This will be deducted from the refundable security deposit.


Problems or Complaints
- No refunds or rate adjustments will be made for malfunction of air conditioners, televisions, appliances, pool equipment or any electronic or mechanical items;
- In some cases 24 to 48hrs may be required to get spare parts;
- If any issue causes you significant discomfort we will move you to another villa if available or use portable equipment we appropriate or available.

Please Note:
Please ensure on completion of cooking, all waste foods are disposed of and work surfaces are cleaned to ensure intrusion of these tenacious visitors is negated and kept to a minimum.
- Any complaints from the neighbors about unsociable noise levels after 21:00hrs WILL be dealt with very severely and continued nuisance could result in you being asked to leave the property without a refund; and
- Please do not use the communal pool outside of the stated opening / closing times.


Promotion : Long Stay 30 Night

Period 09 Feb, 2016 - 30 Sep, 2016

Room Type
Price
Extra Person
Extra Children Breakfast
4 Bedrooms 3 Bathrooms
4,700

( เสาร์ ) 0

-
Promotion : Long Stay 7 Night

Period 09 Feb, 2016 - 30 Sep, 2016

Room Type
Price
Extra Person
Extra Children Breakfast
4 Bedrooms 3 Bathrooms
8,200

( เสาร์ ) 0

-
Promotion : Long Stay 15 Night

Period 09 Feb, 2016 - 30 Sep, 2016

Room Type
Price
Extra Person
Extra Children Breakfast
4 Bedrooms 3 Bathrooms
6,900

( เสาร์ ) 0

-
Promotion : Weekday Promotion : Now - 30 Sep 2016

Period 16 Jun, 2016 - 30 Sep, 2016
Can not use this promotion for Weekend Can not use this promotion for Long Weekend
Room Type
Price
Extra Person
Extra Children Breakfast
4 Bedrooms 3 Bathrooms
11,250

( เสาร์ ) 0

500
Promotion : Non Refund Minimum stay 3 nights : 1 Nov 16 - 7 Jan 17

Period 01 Nov, 2016 - 07 Jan, 2017

Room Type
Price
Extra Person
Extra Children Breakfast
4 Bedrooms 3 Bathrooms
11,250

( เสาร์ ) 14,310

500
Promotion : Non Refund Minimum stay 4 nights : 1 Nov 16 - 7 Jan 17

Period 01 Nov, 2016 - 07 Jan, 2017

Room Type
Price
Extra Person
Extra Children Breakfast
4 Bedrooms 3 Bathrooms
10,625

( เสาร์ ) 13,515

500
Promotion : Flat Rate

Period 01 Apr, 2017 - 01 Apr, 2017

Room Type
Price
Extra Person
Extra Children Breakfast
4 Bedrooms 3 Bathrooms
12,500

( เสาร์ ) 0

700
Promotion : Promotion : 1 - 30 Jun 17

Period 01 Jun, 2017 - 30 Jun, 2017

Room Type
Price
Extra Person
Extra Children Breakfast
4 Bedrooms 3 Bathrooms
9,900

( เสาร์ ) 15,900

700