The Puka Boutique Edit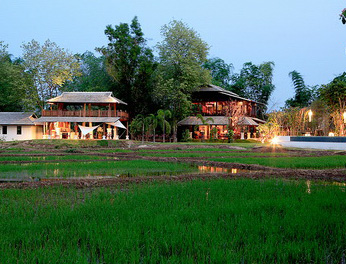 No. of Rooms:

7

Area:

Sankampaeng

Address:

17/4 Moo 6 T. Mae Puka A. Sankhamphaeng, Chiangmai 50130
Puka Boutique Resort is situated at 17/4 Moo 6 T. Mae Puka A. Sankhamphaeng. The Puka Boutique Resort a heavenly tranquilly boutique resort is located in the Sankampaeng District, a 20-minute drive from Chiangmai downtown. This boutique property is 13 km from the city center and 18 from the airport. Puka Resort is located near the namesake river, and rice paddies, evoking the setting of the first settlers.
Puka Boutique Resort is now one of the most fascinating small, private & luxury boutique resorts in Chiang Mai located among villager's way of life. While here, calmness with the various green plants, Longan Garden, rice filed and the puka canal will fulfill you to relax.
The spacious rooms are fitted with a flat-screen TV and a DVD player. Rooms have en suite bathroom come with amenities and hot/cold shower facilities
Pu Ka fe' Restaurant serves a variety of local and international dishes. The resort's Puka Bar offers refreshing drinks, and also features an outdoor pool.
Our facilities approach to enhance the nature experience engrave with opulent services that can expected the top class 5 stars intended and all offered the warmest of smiles and hospitalities.

Period
Price (THB)
Extra Person (THB)
Extra Children Breakfast (THB)
Room Type : Tai Yang Room See All
01 May, 2017 - 30 Oct, 2017
2,070
800
Room Type : Full Moon Room See All
01 May, 2017 - 30 Oct, 2017
3,220
800
Room Type : Mizu Room See All
01 May, 2017 - 30 Oct, 2017
2,875
800
Room Type : Tribe Room See All
01 May, 2017 - 30 Oct, 2017
2,530
800
Room Type : Vasoon Tara Room See All
01 May, 2017 - 30 Oct, 2017
2,530
800
Room Type : Balsam Room See All
01 May, 2017 - 30 Oct, 2017
2,070
800