The Leaf by Katathani Edit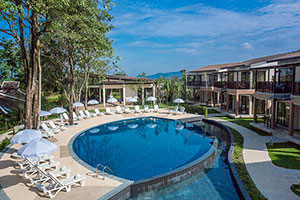 No. of Rooms:

68

Area:

Khao Lak

Address:

40 Moo 6 T.Khukkuk, A. Takuapa, Bang Ninag Beach, Phang Nga 82190
The Leaf by Katathani (formerly the Andaburi Khao Lak Resort) is a new 3-star hotel close to Bangniang beach, Khao Lak, Pang-Nga.
This new Khao Lak hotel is located in the center of the Khao Lak area, just a hour by car from Phuket International Airport. The Leaf by Katathani hotel is located within easy access of some the country's stunning scenery and attractions that include James Bond Islands, Similan Island and Surin Island.
The Leaf by Katathani
is the place which surrounded by a beautiful resort villas bungalow landscaped tropical garden, the mis of proximity, elevation, views and tranquility is your perfect tropical home.

Period
Price (THB)
Extra Person (THB)
Extra Children Breakfast (THB)
Room Type : The Leaf on The Sands : Superior Room See All
01 Apr, 2017 - 31 Oct, 2017
1,400
700
22 Dec, 2016 - 07 Jan, 2017
4,100
700
Room Type : The Leaf on The Sands : Deluxe Room See All
01 Apr, 2017 - 31 Oct, 2017
1,500
700
22 Dec, 2016 - 07 Jan, 2017
4,300
700
Room Type : The Leaf on The Sands : Chalet Room See All
01 Apr, 2017 - 31 Oct, 2017
1,650
700
22 Dec, 2016 - 07 Jan, 2017
4,600
700
Room Type : The Leaf on The Sands : Villa See All
01 Apr, 2017 - 31 Oct, 2017
1,800
700
22 Dec, 2016 - 07 Jan, 2017
4,800
700



Set Lunch optional meal 300 Net per person No Valid in the restaurant at The Leaf only




Set Dinner optional meal 400 Net per person No Valid in the restaurant at The Leaf only






Half Board optional meal 500 Net per person No Dine Around (valid in the restaurants at The Leaf and The Sands)




Airport transfer: Airport transfer name Per way Transfer unit Min Pax Max Pax Condition

Hotel Transfer 2000 Per Car 1 4 -


Surcharges

Period
Extra Charge(Adult)
Extra Charge(Children)
Minimum Night(s) Stay
Compulsory Chrismas Eve Gala dinner 24 Dec 16
24 Dec, 2016 - 24 Dec, 2016
1,500
750
-
Compulsory Gala Dinner on 31 Dec 16
31 Dec, 2016 - 31 Dec, 2016
2,400
1,200
-