Sunshine Vista Edit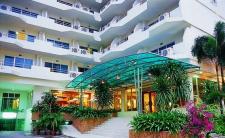 No. of Rooms:

130

Area:

Pattaya

Address:

201/1 Moo 9, Soi 3, Beach Road, Pattaya City, Chonburi 20150
Sunshine Vista offer an alternative to hotels, offering, spacious, comfortable and fully equipped living spaces. Each of the apartments features kitchen, living and dining areas, making them the perfect retreat for families and couples alike. In-house facilities include; the Terra Cotta restaurant serving an array of Thai and western cuisine, a state of the art fitness centre and a luxurious swimming pool.
All rooms rest rooms have separated bathtubs and shower rooms and equipped with standard hotel facilities such as air-conditioners, bath rooms with hot and cold water, TV with international programs via cable TV over 40 channels, mini bars with refrigerators, IDD telephones and in room electronic safes.
All apartments have private balconies and are equipped with standard hotel amenities, while Studio and Executive Studio apartments include a kitchen and dining area.
With its close proximity to Pattaya beach and Sunshine Vista's peaceful atmosphere, you will be ensured a relaxing stay.

Period
Price (THB)
Extra Person (THB)
Extra Children Breakfast (THB)
Room Type : Studio Double/Twin See All
01 Apr, 2017 - 31 Oct, 2017
2,223
700
Room Type : Deluxe Room Double/Twin See All
01 Apr, 2017 - 31 Oct, 2017
1,866
700
Room Type : Superior Room Double/Twin See All
01 Apr, 2017 - 31 Oct, 2017
1,728
700
Room Type : Superior Room Single See All
01 Apr, 2017 - 31 Oct, 2017
1,514
-
Room Type : Deluxe Room Single See All
01 Apr, 2017 - 31 Oct, 2017
1,728
-
Room Type : Studio Single See All
01 Apr, 2017 - 31 Oct, 2017
2,086
-
- Rates are in Thai Baht, inclusive of ABF, Tax and service charge.
- Surcharge 200 Bht/room/night on 27-29 Jan 2017 and 11-16 Apr 2017.
- Compulsory gala dinner on 27-29 Jan 17 at 220 Bht/person.

Child policy:
- Children under 2 years old, sharing existing bed with parents is FOC.
- Children between 2 -12 years old, compulsory an extra bed tare shown. (Breakfast included) maximum 1 child per room.

Check in time is 14.00 hrs (2pm)
Check out time is 12.00 hrs
Surcharges

Period
Extra Charge(Adult)
Extra Charge(Children)
Minimum Night(s) Stay
Compulsory gala dinner on 27-29 Jan 2017
27 Jan, 2017 - 29 Jan, 2017
220
110
-
Surcharge Chinese New Year
27 Jan, 2017 - 29 Jan, 2017
200
-
-
Surcharge Songkran Day
11 Apr, 2017 - 16 Apr, 2017
200
-
-
Bonus Night(s)

Breakfast(Adult)
Breakfast(Child)
ใช้ในช่วง Long Weekend
Promotion Stay 21 nights pay 18 nights : On free night breakfast is included
01 Mar, 2016 - 31 Mar, 2016
-
-
Y
Promotion Stay 20 nights pay 17 nights : On free night breakfast is included
01 Mar, 2016 - 31 Mar, 2016
-
-
Y
Promotion Stay 14 nights pay 12 nights : On free night breakfast is included
01 Mar, 2016 - 31 Mar, 2016
-
-
Y
Promotion Stay 13 nights pay 11 nights : On free night breakfast is included
01 Mar, 2016 - 31 Mar, 2016
-
-
Y
Promotion Stay 7 nights pay 6 nights : On free night breakfast is included
01 Mar, 2016 - 31 Mar, 2016
-
-
Y
Promotion Stay 7 nights pay 6 nights : On free night breakfast is included
01 Apr, 2016 - 31 Oct, 2016
-
-
Y
Promotion Stay 14 nights pay 12 nights : On free night breakfast is included
01 Apr, 2016 - 31 Oct, 2016
-
-
N
Promotion Stay 20 nights pay 17 nights : On free night breakfast is included
01 Apr, 2016 - 31 Oct, 2016
-
-
N
Promotion Stay 21 nights pay 18 nights : On free night breakfast is included
01 Apr, 2016 - 31 Oct, 2016
-
-
Y
Promotion Stay 21 nights pay 18 nights : On free night breakfast is included
01 Apr, 2016 - 31 Oct, 2016
-
-
N
Promotion Stay 20 nights pay 17 nights : On free night breakfast is included
01 Apr, 2016 - 31 Oct, 2016
-
-
Y
Promotion Stay 14 nights pay 12 nights : On free night breakfast is included
01 Apr, 2016 - 31 Oct, 2016
-
-
Y
Promotion Stay 7 nights pay 6 nights : On free night breakfast is included
01 Apr, 2016 - 31 Oct, 2016
-
-
N