Sea Horse Bungalow 2 Edit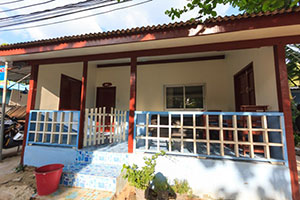 No. of Rooms:

18

Area:

Koh Samed

Address:

115 Moo.4 Vonduern beach Banphe, Koh Samet, Rayong 21160
Sea Horse Bungalow2 situated at 115 Moo.4 Vonduern beach Banphe, Koh Samet.
Sea Horse Bungalow2 consist facilities It also provides services in the seaside restaurants are delicious with a casual atmosphere.
Sea Horse Bungalow2, each room includes a refrigerator, TV, air conditioner, water heater and balcony.
It also provides motorcycle and ATV (four-wheel) Rental drive around the island stopping to eat or take other beaches fully and for business contacts. It's not a problem anymore. We have high speed internet access / money transfer services in the country. And ATMs.

Period
Price (THB)
Extra Person (THB)
Extra Children Breakfast (THB)
Room Type : Thai House See All
04 Apr, 2015 - 05 Apr, 2015
4,800
-
11 Apr, 2015 - 15 Apr, 2015
4,800
-
01 May, 2015 - 05 May, 2015
4,800
-
30 May, 2015 - 31 May, 2015
4,800
-
30 Jul, 2015 - 31 Jul, 2015
4,800
-
12 Aug, 2015 - 12 Aug, 2015
4,800
-
23 Oct, 2015 - 24 Oct, 2015
4,800
-
05 Dec, 2015 - 06 Dec, 2015
4,800
-
26 Dec, 2015 - 31 Dec, 2015
4,800
-
Room Type : Family 6 See All
04 Apr, 2015 - 05 Apr, 2015
6,600
-
11 Apr, 2015 - 15 Apr, 2015
6,600
-
01 May, 2015 - 05 May, 2015
6,600
-
30 May, 2015 - 31 May, 2015
6,600
-
30 Jul, 2015 - 31 Jul, 2015
6,600
-
12 Aug, 2015 - 12 Aug, 2015
6,600
-
23 Oct, 2015 - 24 Oct, 2015
6,600
-
05 Dec, 2015 - 06 Dec, 2015
6,600
-
26 Dec, 2015 - 31 Dec, 2015
6,600
-
Room Type : Standard Room See All
04 Apr, 2015 - 05 Apr, 2015
2,000
-
11 Apr, 2015 - 15 Apr, 2015
2,000
-
01 May, 2015 - 05 May, 2015
2,000
-
30 May, 2015 - 31 May, 2015
2,000
-
30 Jul, 2015 - 31 Jul, 2015
2,000
-
12 Aug, 2015 - 12 Aug, 2015
2,000
-
23 Oct, 2015 - 24 Oct, 2015
2,000
-
05 Dec, 2015 - 06 Dec, 2015
2,000
-
26 Dec, 2015 - 31 Dec, 2015
2,000
-
Room Type : Superior Room See All
04 Apr, 2015 - 05 Apr, 2015
2,800
-
11 Apr, 2015 - 15 Apr, 2015
2,800
-
01 May, 2015 - 05 May, 2015
2,800
-
30 May, 2015 - 31 May, 2015
2,800
-
30 Jul, 2015 - 31 Jul, 2015
2,800
-
12 Aug, 2015 - 12 Aug, 2015
2,800
-
23 Oct, 2015 - 24 Oct, 2015
2,800
-
05 Dec, 2015 - 06 Dec, 2015
2,800
-
26 Dec, 2015 - 31 Dec, 2015
2,800
-
Room Type : Standard Garden 1 See All
04 Apr, 2015 - 05 Apr, 2015
2,280
-
11 Apr, 2015 - 15 Apr, 2015
2,280
-
01 May, 2015 - 05 May, 2015
2,280
-
30 May, 2015 - 31 May, 2015
2,280
-
30 Jul, 2015 - 31 Jul, 2015
2,280
-
12 Aug, 2015 - 12 Aug, 2015
2,280
-
23 Oct, 2015 - 24 Oct, 2015
2,280
-
05 Dec, 2015 - 06 Dec, 2015
2,280
-
26 Dec, 2015 - 31 Dec, 2015
2,280
-
Room Type : Standard Garden 2 See All
04 Apr, 2015 - 05 Apr, 2015
2,280
-
11 Apr, 2015 - 15 Apr, 2015
2,280
-
01 May, 2015 - 05 May, 2015
2,280
-
30 May, 2015 - 31 May, 2015
2,280
-
30 Jul, 2015 - 31 Jul, 2015
2,280
-
12 Aug, 2015 - 12 Aug, 2015
2,280
-
23 Oct, 2015 - 24 Oct, 2015
2,280
-
05 Dec, 2015 - 06 Dec, 2015
2,280
-
26 Dec, 2015 - 31 Dec, 2015
2,280
-
• Include breakfast for Low Season and Long Weekend
• Exclude Beakfast for High Season
Surcharges

Period
Extra Charge(Adult)
Extra Charge(Children)
Minimum Night(s) Stay
Song karn
11 Apr, 2015 - 15 Apr, 2015
-
-
-
1-5 May
01 May, 2015 - 05 May, 2015
-
-
-