Samui Laguna Resort Edit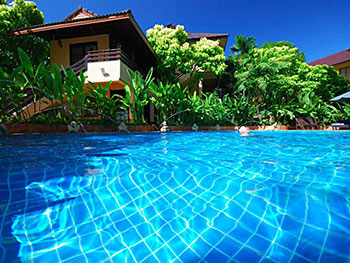 No. of Rooms:

62

Area:

Koh Samui

Address:

124/103 Lamai Beach, T.Maret, Lamai, Samui, Suratthani 84310
Samui Laguna Resort located on the quiet spot of beautiful Lamai beach, surrounded by peaceful lagoon and coconut plantation. The entertainment and nightlife area of Lamai is within 10 minutes walking distance.
Relax by the pool, soak up the sun, sip a tropical cocktail on your deck chair.
The best of seafood, Thai and international cuisine is served in our restaurant right on the beach. Hotel rooms offer modern amenities; and a view from the balcony. Our attractive air con bungalows offer privacy and comfort.

Period
Price (THB)
Extra Person (THB)
Extra Children Breakfast (THB)
Room Type : Bungalow See All
01 Sep, 2017 - 19 Dec, 2017
2,000
500
Room Type : Building See All
01 Sep, 2017 - 19 Dec, 2017
1,800
500
1. All room rates are run of the house and there will be maximum 3 beds in a room.
2. All the above rates are inclusive of ABF.

3. Family Plan:
- The child aged from 1-11 yrs sharing a room with adults will be maximum 3 beds in a room. Child under 12 years sharing a room with adult without extra bed free of charge. Compulsory ABF @ 150 THB per child between 4-11 years. Lunch and Dinner is half price for children.
4. Transfer:
-300 Baht net per person for one way within Samui ( max 2 persons).
5. Room used from 12:00 - 18:00 hrs. on departure date will be charged 50% of the rate.
6. We reserve the right to change these prices, product details, all terms and conditions at anytime without prior notice.
Promotion : Early Bird 30 days : 16 - 30 Apr 17

Book 30 days in advance. Travel period 16 Apr, 2017 - 30 Apr, 2017

Room Type
Price
Extra Person
Extra Children Breakfast
Building
1,620
500
Bungalow
1,800
500
Promotion : Early Bird 30 days : 1 - 31 May 17

Book 30 days in advance. Travel period 01 May, 2017 - 31 May, 2017

Room Type
Price
Extra Person
Extra Children Breakfast
Building
1,620
500
Bungalow
1,800
500
Promotion : Early Bird 30 days : 1 - 30 Jun 17

Book 30 days in advance. Travel period 01 Jun, 2017 - 30 Jun, 2017

Room Type
Price
Extra Person
Extra Children Breakfast
Bungalow
1,800
500
Building
1,620
500
Promotion : Early Bird 30 days : 1 - 31 Jul 17

Book 30 days in advance. Travel period 01 Jul, 2017 - 31 Jul, 2017

Room Type
Price
Extra Person
Extra Children Breakfast
Bungalow
2,205
500
Building
1,845
500
Promotion : Early Bird 30 days : 1 - 31 Aug 17

Book 30 days in advance. Travel period 01 Aug, 2017 - 31 Aug, 2017

Room Type
Price
Extra Person
Extra Children Breakfast
Bungalow
2,205
500
Building
1,845
500
Promotion : Early Bird 30 days : 1 - 30 Sep 17

Book 30 days in advance. Travel period 01 Sep, 2017 - 30 Sep, 2017

Room Type
Price
Extra Person
Extra Children Breakfast
Bungalow
1,800
500
Building
1,620
500
Promotion : Early Bird 30 days : 1 - 31 Oct 17

Book 30 days in advance. Travel period 01 Oct, 2017 - 31 Oct, 2017

Room Type
Price
Extra Person
Extra Children Breakfast
Building
1,620
500
Bungalow
1,800
500
Promotion : Early Bird 30 days : 1 Nov - 19 Dec 17

Book 30 days in advance. Travel period 01 Nov, 2017 - 19 Dec, 2017

Room Type
Price
Extra Person
Extra Children Breakfast
Bungalow
1,800
500
Building
1,620
500
Promotion : Early Bird 30 days : 16 Apr - 15 July 18

Book 30 days in advance. Travel period 16 Apr, 2018 - 15 Jul, 2018

Room Type
Price
Extra Person
Extra Children Breakfast
Bungalow
1,800
500
Building
1,620
500
Promotion : Early Bird 30 days : High 16 Jul - 31 Aug 18

Book 30 days in advance. Travel period 16 Jul, 2018 - 31 Aug, 2018

Room Type
Price
Extra Person
Extra Children Breakfast
Building
1,845
500
Bungalow
2,205
500
Promotion : Early Bird 30 days : 1 Sep - 31 Oct 18

Book 30 days in advance. Travel period 01 Sep, 2018 - 31 Oct, 2018

Room Type
Price
Extra Person
Extra Children Breakfast
Bungalow
1,800
500
Building
1,620
500