Punjadara Hotel Edit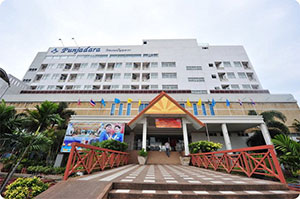 No. of Rooms:

79

Area:

Nakorn Ratchasima-City

Address:

281/19 Chainarong Road, Muang, Nakhonratchasima City Center, Nakhon Ratchasima 30000
Punjadara Hotel It features a Room with a total of 79 rooms in a Standard, Deluxe, Suite, supperior. The rooms are on floors 3-6.
Are as follows:
1. Skin is the largest meeting room of the hotel is on the 7th floor.
2. Punjadara 1,2,3,4,5,6 meeting will be the 2nd pick from 15-200 people.
3. Meeting MEKHALA is on the 1st floor next to a Sale and a secretary.