Phuwadee Resort & Spa Edit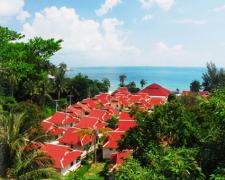 No. of Rooms:

45

Area:

Koh Phangan

Address:

22/6 Moo 5 Thong Nai Pan Noi Beach Koh Pha-Ngan, Suratthani 84280
Phuwadee Resort & Spa - Koh Phangan (Formerly Thong Naipan Beach Resort & Spa)
Thanks to startling natural assets, Thong Nai Pan Resort & Spa has welcomed many visitors over the years. The quality of our beach and a tradition of hospitality excellence have made us popular hotel among honey moaners and romance-seekers. As you discover a paradise for two on your first time to Koh Phangan you can't help falling in love with the island.
Our resort is located on the most spectacular site of Phangan, Thong Nai Pan Noi beach. An uninterrupted stretch of immaculate beach composes the sumptuous environment of this exclusive hotel.

Gorgeous beach, dazzling sunsets, crystal-clear waters, magical garden and family friendly service. These exceptional assets have earned Thong nai pan beach resort & SPA a great reputation as a tropical paradise, ideal for families, friends or lovers.

Period
Price (THB)
Extra Person (THB)
Extra Children Breakfast (THB)
Room Type : Garden View Bungalow See All
21 Dec, 2011 - 15 Jan, 2012
2,000
450
Room Type : Deluxe Pool Bungalow See All
21 Dec, 2011 - 15 Jan, 2012
2,200
450
Room Type : Family Bungalow See All
21 Dec, 2011 - 15 Jan, 2012
2,500
-
Room Type : Seaview Bungalow See All
21 Dec, 2011 - 15 Jan, 2012
2,800
450
1. All Rates are in the currency of Thai Baht, inclusive of breakfast.
2. Family plan : children up to 3 years old will not be charged.
3. No charge for children 3 - 11 years old sharing room with parent without extra bed and breakfast and breakfast And
Breakfast @ 150 THB/ Child. With extra bed will be charged at THB 400 including breakfast and maximum 1 extra bed per room.
4. Transfer services (Join transfer):
*. From Thong sala pier to resort 300THB / person the time 1.00 - 2.00pm or 4.00pm.
*. From Resort to Thong sala pier 300THB / person the time 10:00 AM or 3.00pm.
5. Transfer services (Private transfer) :
*. By taxi from Koh Phangan pier, By speed boat from Samui ( price to be informed)
6. We reserve the right to change these prices, product details, all terms and conditions at anytime without prior notice.
Surcharges

Period
Extra Charge(Adult)
Extra Charge(Children)
Minimum Night(s) Stay
Gala Dinner
31 Dec, 2011 - 31 Dec, 2011
1,600
800
-