Numsai Khaosuay Resort Edit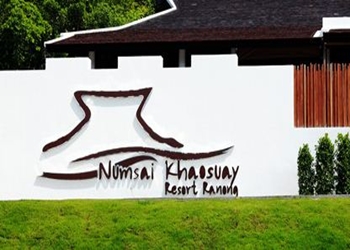 No. of Rooms:

28

Area:

Ranong-City

Address:

4/19 permpol Rd, Khaoniwes, Ranong City Center, Ranong 85000
Numsai Khaosuay Boutique Resort is the only one city resort in Ranong which is designed in the style of garden resort on the hill. Numsai Khaosuay Resort is a distinct addition to the city's skyline. The hotel is not too far from the city center: just 0.5 km away, and it normally takes about 45 minutes to reach the airport.
At Numsai Khaosuay Resort, the excellent service and superior facilities make for an unforgettable stay. Guests of the hotel can enjoy on-site features like room service, car park, concierge, poolside bar, restaurant.
Hotel accommodations have been carefully appointed to the highest degree of comfort and convenience, with bathtub, desk, bathrobes, television, mini bar in each room. Guests will be entertained by top-class recreational facilities such as pool (kids), massage, outdoor pool, garden. Numsai Khaosuay Resort is your one-stop destination for quality hotel accommodations in Ranong.
The resort is in the heart of Ranong town. It is just 300 meters away from the hub of Bus Terminal. The resort provides mineral water directly from the hot spring site to your rooms.

Period
Price (THB)
Extra Person (THB)
Extra Children Breakfast (THB)
Room Type : Suite See All
01 May, 2017 - 31 Oct, 2017
5,300
800
Room Type : Superior Room See All
01 May, 2017 - 31 Oct, 2017
1,900
800
Room Type : Deluxe Room See All
01 May, 2017 - 31 Oct, 2017
2,990
800
1. Meal rates per person :
- Breakfast : 200 Baht
- Lunch : 350 Baht
2. Complimentary for child below 12 years sharing room with 2 adult without extra bed (room only). Child 04- 12 years of age are considered half price of meal rate, to those under 4 years are free of charge.
3. Room Occupancy : the rooms confirmed as reserved shall be available for occupancy after 2.00 pm on the day of arrival, check out time is 12.00 pm.
4. We reserved the right to change these prices, product details, all terms and conditions at anytime without prior notice.