Milano HuaHin Edit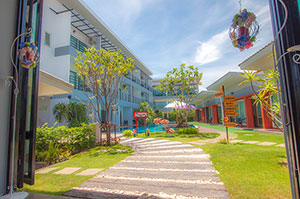 No. of Rooms:

20

Area:

Hua Hin

Address:

35/53 Hua Hin 114 Street, Nong Kae, Hua Hin, Prachuabkhirikhan 77110
Milano HuaHin Resort situated at 35/53 Hua Hin 114 Street, Nong Kae, Hua Hin. Located 1 km from Cicada Market and 1.5 km from Khao Takiap.
Milano HuaHin is the ideal resort for a relaxing holiday. Milano HuaHin Resort offers 20 rooms. Decor with Vintage style with brick red damask. Interior decorating with old clocks and watches many of the countries included in the same wall.
Each rooms come with a flat-screen TV, a seating area and a refrigerator. Featuring a shower, private bathroom also comes with free toiletries.
Milano Huahin's facilities and service are include Coffee free 24-hour, secure 24-hour, free Wi-Fi, free parking and a swimming pool for children and adults.

Period
Price (THB)
Extra Person (THB)
Extra Children Breakfast (THB)
Room Type : Superior Pool View See All
16 Jul, 2016 - 20 Jul, 2016
3,316
600
12 Aug, 2016 - 14 Aug, 2016
3,316
600
22 Oct, 2016 - 24 Oct, 2016
3,460
600
03 Dec, 2016 - 06 Dec, 2016
3,460
600
10 Dec, 2016 - 11 Dec, 2016
3,460
600
20 Dec, 2016 - 10 Jan, 2017
3,460
600
11 Feb, 2017 - 13 Feb, 2017
3,460
600
06 Apr, 2017 - 08 Apr, 2017
3,460
600
10 Apr, 2017 - 17 Apr, 2017
3,460
600
29 Apr, 2017 - 02 May, 2017
3,460
600
Room Type : Deluxe Pool Access See All
16 Jul, 2016 - 20 Jul, 2016
4,613
600
12 Aug, 2016 - 14 Aug, 2016
4,613
600
22 Oct, 2016 - 24 Oct, 2016
5,046
600
03 Dec, 2016 - 06 Dec, 2016
5,046
600
10 Dec, 2016 - 11 Dec, 2016
5,046
600
20 Dec, 2016 - 10 Jan, 2017
5,046
600
11 Feb, 2017 - 13 Feb, 2017
5,046
600
06 Apr, 2017 - 08 Apr, 2017
5,046
600
10 Apr, 2017 - 17 Apr, 2017
5,046
600
29 Apr, 2017 - 02 May, 2017
5,046
600
Room Type : Suite Pool Side See All
16 Jul, 2016 - 20 Jul, 2016
5,190
600
12 Aug, 2016 - 14 Aug, 2016
5,190
600
22 Oct, 2016 - 24 Oct, 2016
5,622
600
03 Dec, 2016 - 06 Dec, 2016
5,622
600
10 Dec, 2016 - 11 Dec, 2016
5,622
600
20 Dec, 2016 - 10 Jan, 2017
5,622
600
11 Feb, 2017 - 13 Feb, 2017
5,622
600
06 Apr, 2017 - 08 Apr, 2017
5,622
600
10 Apr, 2017 - 17 Apr, 2017
5,622
600
29 Apr, 2017 - 02 May, 2017
5,622
600
Room Type : Suite Pool Side (2 Bedroom) See All
16 Jul, 2016 - 20 Jul, 2016
7,208
600
12 Aug, 2016 - 14 Aug, 2016
7,208
600
22 Oct, 2016 - 24 Oct, 2016
7,640
600
03 Dec, 2016 - 06 Dec, 2016
7,640
600
10 Dec, 2016 - 11 Dec, 2016
7,640
600
20 Dec, 2016 - 10 Jan, 2017
7,640
600
11 Feb, 2017 - 13 Feb, 2017
7,640
600
06 Apr, 2017 - 08 Apr, 2017
7,640
600
10 Apr, 2017 - 17 Apr, 2017
7,640
600
29 Apr, 2017 - 02 May, 2017
7,640
600
Room Type : Jacuzzi Pool View (3 Bedroom) See All
16 Jul, 2016 - 20 Jul, 2016
10,523
600
12 Aug, 2016 - 14 Aug, 2016
10,523
600
22 Oct, 2016 - 24 Oct, 2016
11,100
600
03 Dec, 2016 - 06 Dec, 2016
11,100
600
10 Dec, 2016 - 11 Dec, 2016
11,100
600
20 Dec, 2016 - 10 Jan, 2017
11,100
600
11 Feb, 2017 - 13 Feb, 2017
11,100
600
06 Apr, 2017 - 08 Apr, 2017
11,100
600
10 Apr, 2017 - 17 Apr, 2017
11,100
600
29 Apr, 2017 - 02 May, 2017
11,100
600