Manathai Resort Koh Samui Edit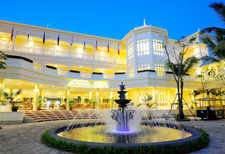 No. of Rooms:

133

Area:

Koh Samui

Address:

173/41 Robkoh Road, Maret, Lamai, Samui, Suratthani 84310
Manathai Resort Koh Samui (formely Buddy Oriental Samui Beach Resort) combines the truly unique concept of both colonial style luxury and tropical seaside resort. Offering refined elegance in design, along with the peaceful island ambience of Lamai Beach, Koh Samui.
Manathai Resort caters to the sophisticated and free-spirited travelers alike. Koh Samui, located off the southern Aowthai coast, is known for its spectacular natural beauty, beautiful beaches, and crystal clear ocean waters.
With an array of activities from mountain trekking to scuba diving and some of Thailand's most luscious health spas, Koh Samui is quickly becoming one of Southeast Asia's most popular tourist destinations.

Period
Price (THB)
Extra Person (THB)
Extra Children Breakfast (THB)
Room Type : Manathai Suite See All
01 Sep, 2017 - 31 Oct, 2017
6,650
-
Room Type : Deluxe Balcony Room See All
01 Sep, 2017 - 31 Oct, 2017
2,500
-
Room Type : Lamai Suite See All
01 Sep, 2017 - 31 Oct, 2017
3,500
-
Room Type : Deluxe Lamai Suite See All
01 Sep, 2017 - 31 Oct, 2017
4,000
-
Room Type : Deluxe Garden Room See All
01 Sep, 2017 - 31 Oct, 2017
3,300
-
Promotion : Super Saver : Now - 30 June17 (Except Chinese Market)

Period 14 Jun, 2017 - 30 Jun, 2017

Room Type
Price
Extra Person
Extra Children Breakfast
Deluxe Balcony Room
2,500
-
Promotion : Super Saver Min 4 nights : Now - 30 June 17 (Except Chinese Market)

Period 14 Jun, 2017 - 30 Jun, 2017

Room Type
Price
Extra Person
Extra Children Breakfast
Deluxe Balcony Room
2,500
-
Promotion : Super Saver : 16 July - 31 Aug 17 (Except Chinese Market)

Period 16 Jul, 2017 - 31 Aug, 2017

Room Type
Price
Extra Person
Extra Children Breakfast
Deluxe Balcony Room
4,100
-
Deluxe Garden Room
4,990
-
Lamai Suite
5,200
-
Deluxe Lamai Suite
5,750
-
Manathai Suite
8,250
-
Promotion : Super Saver Min 4 nights : 16 July - 31 Aug 17 (Except Chinese Market)

Period 16 Jul, 2017 - 31 Aug, 2017

Room Type
Price
Extra Person
Extra Children Breakfast
Deluxe Lamai Suite
5,500
-
Manathai Suite
7,900
-
Lamai Suite
4,990
-
Deluxe Garden Room
4,650
-
Deluxe Balcony Room
3,800
-
Promotion : Super Saver : 1 Sep - 31 Oct 17 (Except Chinese Market)

Period 01 Sep, 2017 - 31 Oct, 2017

Room Type
Price
Extra Person
Extra Children Breakfast
Deluxe Balcony Room
2,500
-
Lamai Suite
3,350
-
Deluxe Garden Room
3,150
-
Deluxe Lamai Suite
3,850
-
Manathai Suite
6,400
-
Promotion : Super Saver Min 4 nights : 1 Sep - 31 Oct 17 (Except Chinese Market)

Period 01 Sep, 2017 - 31 Oct, 2017

Room Type
Price
Extra Person
Extra Children Breakfast
Deluxe Balcony Room
2,500
-
Deluxe Lamai Suite
3,850
-
Lamai Suite
3,350
-
Deluxe Garden Room
3,150
-