Koh Chang Grand Orchid Edit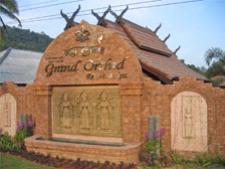 No. of Rooms:

n/a

Area:

Koh Chang

Address:

11/3 Moo 3 Bannklongson, White Sand Beach, Koh Chang, Trad 23120
Wonderfully situated on an orchard hill, the three-star rated Koh Chang Grand Orchid Resort and Spa offers guests the scent of nature and exploration of beautiful fauna & flora. The Grand Orchid Resort and Spa features 35 stylishly designed rooms which are all equipped with good amenities.
At Koh Chang Grand Orchid Resort and Spa, the excellent service and superior facilities make for an unforgettable stay. The hotel provides safety deposit boxes, family room, laundry service/dry cleaning, room service, car park to ensure our guests the greatest comfort.

Hotel accommodations have been carefully appointed to the highest degree of comfort and convenience, with satellite/cable TV, television, air conditioning, non smoking rooms, shower in each room. Throughout the day you can enjoy the relaxing atmosphere of the spa, sauna, garden, outdoor pool. Koh Chang Grand Orchid Resort and Spa is your one-stop destination for quality hotel accommodations in Koh Chang ,Trad.

Period
Price (THB)
Extra Person (THB)
Extra Children Breakfast (THB)
Room Type : Superior Room (Double, Twin) See All
01 May, 2017 - 31 Oct, 2017
1,000
500
28 Dec, 2016 - 02 Jan, 2017
1,900
500
13 Apr, 2017 - 15 Apr, 2017
1,900
500
28 Dec, 2017 - 02 Jan, 2018
1,900
500
13 Apr, 2018 - 15 Apr, 2018
1,900
500
Room Type : Family Room (For 6 persons) See All
01 May, 2017 - 31 Oct, 2017
3,000
500
28 Dec, 2016 - 02 Jan, 2017
5,000
500
13 Apr, 2017 - 15 Apr, 2017
5,000
500
28 Dec, 2017 - 02 Jan, 2018
5,000
500
13 Apr, 2018 - 15 Apr, 2018
5,000
500
Room Type : Family Room (For 4 persons) See All
01 May, 2017 - 31 Oct, 2017
2,000
500
28 Dec, 2016 - 02 Jan, 2017
3,700
500
13 Apr, 2017 - 15 Apr, 2017
3,700
500
28 Dec, 2017 - 02 Jan, 2018
3,700
500
13 Apr, 2018 - 15 Apr, 2018
3,700
500
Room Type : Deluxe Room (Double, Twin) See All
01 May, 2017 - 31 Oct, 2017
1,200
500
28 Dec, 2016 - 02 Jan, 2017
2,300
500
13 Apr, 2017 - 15 Apr, 2017
2,300
500
28 Dec, 2017 - 02 Jan, 2018
2,300
500
13 Apr, 2018 - 15 Apr, 2018
2,300
500
Remarks :
- All above rates are nett in Thai Baht inclusive of American breakfast
• Child Policy:
- Child sharing room with parents and using existing bedding is free of charge
Surcharges

Period
Extra Charge(Adult)
Extra Charge(Children)
Minimum Night(s) Stay
Surcharge Songkran Festival 13-15 Apr 18
13 Apr, 2018 - 15 Apr, 2018
400
-
-
Bonus Night(s)

Breakfast(Adult)
Breakfast(Child)
ใช้ในช่วง Long Weekend
Promotion พัก 3 คืน แถมฟรี 1 คืน
01 May, 2011 - 30 Sep, 2011
-
-
Y