Khaolak Inn Edit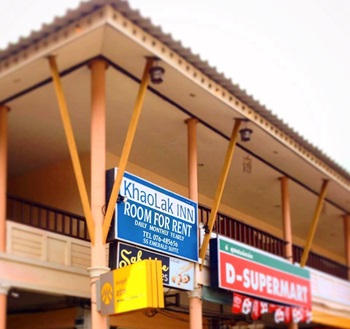 No. of Rooms:

20

Area:

Khao Lak

Address:

4/82-83 Petchkasem Rd, T. Khuk Khak, Takuapa, Phang Nga 82190
Khaolak Inn provides spacious rooms which could accommodate up to 4-5 guests comfortably. We have a 57 sq.m suite so you and your family can assured and enjoy the hospitalities while staying at khaolak Inn.
All the rooms at the Khao lak Inn were built with the natural environment. Beautiful garden is excellent energy saving measures for air-conditioning and many of the handsome decorative wood trimmings and furniture have been built from reclaimed lumber.
Our desire for an effective alternative for preserving and protecting the forest around us the spacious rooms in center of shopping is comfortable for your relaxation.

Period
Price (THB)
Extra Person (THB)
Extra Children Breakfast (THB)
Room Type : Standard Room with Bacony See All
20 Dec, 2015 - 15 Jan, 2016
1,400
400
Room Type : Family Room with Bacony See All
20 Dec, 2015 - 15 Jan, 2016
2,600
400
Room Type : Triple Room with Bacony See All
20 Dec, 2015 - 15 Jan, 2016
2,000
400
Room Type : Standard Room with Window See All
20 Dec, 2015 - 15 Jan, 2016
1,200
400