Ketawa Stylish Hotel Edit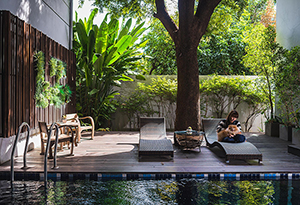 No. of Rooms:

Area:

Chiangmai-City

Address:

121/1 Soi 2, Bumrungraj Rd, T. Wat Gate, A. Muang, Chiangmai
Ketawa Stylish Hotel is situated at 121/1 Soi 2, Bumrungraj Rd, T. Wat Gate, A. Muang, is located in the historical wat kate area where many old wooden houses and long lasting cultures still exists, we recommend that you take a walking tour around the area where you will find restaurants, church, Wat kate temple, school and shops.
Almost all decorative in the hotel and in the rooms such as vases and boxes are custom designed especially for Ketawa. Furthermore, the aroma scents in each room in response to the moods and tones of that room as well as the bathroom amenities that matches exactly with the color of each room.
Ketawa hotel consists of 13 deluxe rooms, each has 32 sq.m. each with different colors, moods, and tones based on the cultural mixed concept.
The spacious deluxe rooms are come equipped with air conditioning, tea/coffee maker, a mini bar and private bathrooms and a hairdryer.
The hotel offers Thai massage, roof garden, transport rentals, tour desk, laundry service, airport shuttle, indoor pool and Ketawa Kafe serves American, European and Asian dishes. The cafe also features homemade dessert and pastries.