Kasem Island Resort Edit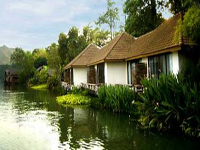 No. of Rooms:

N/A

Area:

Kanchanaburi-City

Address:

44-48 Chaichumphol Rd., T. Bantai, Amphor Muang, Kanchanaburi 71000
Kasem Island Resort was established over 20 years ago. Since then we are a hidden gem for nature lovers in Kanchanaburi Province in western Thailand. Our resort is located in the heart of Kanchanaburi on a secluded island.
Kasem Island Resort is the only island resort on the Mae Klong river. It is close to Kanchanaburi town yet you can be away from the noice and crowd of city life. You can do fishing, swimming or lying relaxingly in the sun! Most enjoyable thing to do is eating! We guarantee choices of food that the gourmet cannot afford to miss.
With the background of mountains, in the embrace of River Kwai, right in the heart of Kanchanaburi, Kasem Island Resort will bring you the perfect holiday of leisure pleasure.
The ambiance of Kasem Island Resort is reflected in every guestroom. Our rooms will meet your expectation. Right now we have 18 air-conditioned rooms in cozy cottages. The rooms comes with different facilities; with and without TV and refrigerator. If you like it more rural, our 15 fan rooms on the raft overlooking the cool tranquil River Kwai and with breath-taking views of surrounding mountains might be your choice.
We are ready to serve all your meals from our excellent Thai and international cuisine in our homely coffee shop, in the garden by the river or even on our cruising bamboo raft.
The Islet Café is ready to serve all meals - Thai and international cuisine, homely coffee shop.
Enjoy our hospitality on our beautiful island surrounded by the River Kwai. Stay away from the hustle and bustle of a town, surrounded by mountains and the River Kwai. Enjoy your best days of the year with our hospitality and friendliness at Kasem Island Resort.


Period
Price (THB)
Extra Person (THB)
Extra Children Breakfast (THB)
Room Type : Standard Air - con Room ( Single/ Double / Twin) See All
Room Type : Superior Air - con ( Single / Double / Twin ) See All
- Full prepayment. Visa/master Card is accepted plus 3.5% service fee. Without credit card guarantee or cash deposit, no booking is confirmed.
- We reserved the right to change these prices, product details, all terms and conditions at anytime without prior notice.