Iyara Beach Hotel & Plaza Edit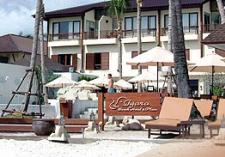 No. of Rooms:

75

Area:

Koh Samui

Address:

90/13-16 T. Bophut, Suratthani, Chaweng, Samui, Suratthani 84320
Iyara Beach Hotel & Plaza is located at North of Chaweng Beach, Iyara Beach Hotel And Plaza is a 10-minute drive from Samui Airport. It features an outdoor pool and an al fresco restaurant with seaview.
The Iyara Beach offers a wide choice of accommodations. We particularly like the cabanas that face the beach and are surrounded by tropical gardens.

The rooms of Iyara are fitted with flat-screen TV, a minibar and an in-room safe. A private bathroom with amenities is attached in all rooms.

Iyara Beach Hotel And Plaza provides free parking on site. Guests can arrange for massages or make travel arrangements at the tour desk. There is also a shopping plaza within the hotel complex.

Iyara Restaurant serves a variety of Western and Thai dishes. Seafood and light snacks are also offered at this beachfront restaurant.
The lovely open air restaurant faces the beach and has theme night buffets including great seafood BBQ. Don't miss the classical Thai dance on Thursday night. And before you leave treat yourself to a massage at the hotels Chang Sbai Massage Center.

Period
Price (THB)
Extra Person (THB)
Extra Children Breakfast (THB)
Room Type : Suite See All
16 Sep, 2017 - 31 Oct, 2017
12,000
1,200
Room Type : Cabana Room See All
16 Sep, 2017 - 31 Oct, 2017
6,900
-
Room Type : Iyara Room See All
16 Sep, 2017 - 31 Oct, 2017
6,300
1,200
Room Type : Deluxe Room See All
16 Sep, 2017 - 31 Oct, 2017
4,850
1,200
Room Type : Superior Room See All
16 Sep, 2017 - 31 Oct, 2017
4,200
1,200
Promotion : Hot Deal Promotion 1 Nov 16 - 15 Apr 17

Period 01 Nov, 2016 - 30 Apr, 2017

Room Type
Price
Extra Person
Extra Children Breakfast
Deluxe Room
3,990
1,200
Cabana Room
5,650
-
Superior Room
3,150
1,200
Promotion : Hot Deal Promotion 1 Dec 16 - 21 Dec 16

Period 01 Dec, 2016 - 21 Dec, 2016

Room Type
Price
Extra Person
Extra Children Breakfast
Superior Room
3,665
1,200
Deluxe Room
4,690
1,200
Cabana Room
6,150
-
Promotion : Hot Deal Promotion 11 Jan 17 - 15 Apr 17

Period 11 Jan, 2017 - 15 Apr, 2017

Room Type
Price
Extra Person
Extra Children Breakfast
Deluxe Room
4,690
1,200
Cabana Room
6,150
-
Superior Room
3,665
1,200
Surcharges

Period
Extra Charge(Adult)
Extra Charge(Children)
Minimum Night(s) Stay
Compulsory Gala Dinner New Year Eve
31 Dec, 2017 - 31 Dec, 2017
3,900
2,500
-
Bonus Night(s)

Breakfast(Adult)
Breakfast(Child)
ใช้ในช่วง Long Weekend
Stay 5 nights charge 4 nights
21 May, 2011 - 15 Jul, 2011
300
150
Y
Stay 9 nights charge 7 nights
21 May, 2011 - 15 Jul, 2011
300
150
Y
Stay 5 nights charge 4 nights
01 Sep, 2011 - 15 Sep, 2011
300
150
Y
Stay 9 nights charge 7 nights
01 Sep, 2011 - 15 Sep, 2011
300
150
Y
Stay 9 nights charge 7 nights
16 Sep, 2011 - 31 Oct, 2011
300
150
Y
Stay 5 nights charge 4 nights
16 Sep, 2011 - 31 Oct, 2011
300
150
Y
Stay 5 nights pay 4 nights
01 Nov, 2011 - 15 Dec, 2011
300
150
Y
Stay 9 nights pay 7 nights
01 Nov, 2011 - 15 Dec, 2011
300
150
Y
Stay 5 nights pay 4 nights
16 Apr, 2012 - 15 Jul, 2012
300
150
Y
Stay 9 nights pay 7 nights
16 Apr, 2012 - 15 Jul, 2012
300
150
Y
Stay 9 nights pay 7 nights
01 Sep, 2012 - 15 Sep, 2012
300
150
Y
Stay 5 nights pay 4 nights
01 Sep, 2012 - 15 Sep, 2012
300
150
Y
Stay 5 nights pay 4 nights
16 Sep, 2012 - 31 Oct, 2012
300
150
Y
Stay 9 nights pay 7 nights
16 Sep, 2012 - 31 Oct, 2012
300
150
Y