Hop Inn Krabi Edit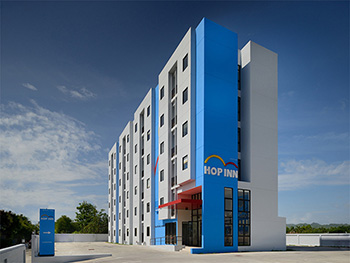 No. of Rooms:

75

Area:

Krabi-City

Address:

19 Ruamjit Rd, Pak Nam Sub District, A.City, Krabi 81000
Hop Inn Krabi New options for travelers looking for accommodation that meets international standards is safe, clean, comfortable room is located in the heart of the city in every stay. Whether traveling for business or leisure. It offers 75 standard rooms are open 24 hours a day with plenty of amenities.
- Adequate parking and security.
- Passenger lift facilities.
- Key card system For access to the room and the building.
- Over drinks at the lobby.
- The sale of food, beverages and household goods.
- Custom-made mattresses and linens.
- air conditioner
- Hot water flows
- 32-inch TV with cable TV.
- Free Wi-Fi
- desk
- Refrigerator (2 free water bottles).

Period
Price (THB)
Extra Person (THB)
Extra Children Breakfast (THB)
Room Type : Standard Room See All
17 Apr, 2017 - 30 Nov, 2017
650
-