Gajapuri Resort & Spa Edit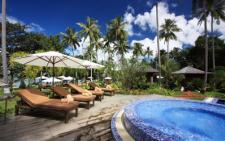 No. of Rooms:

29

Area:

Koh Chang

Address:

19/19 Moo 4, Kaibae beach, T. Koh Chang, Koh Chang, Trad 23170
Gajapuri Resort & Spa - Koh Chang
Gajapuri, which means "Elephant's Empire" in Sanskrit ,is a place for travelers who seek nature, privacy and comfort with the standards of a 4-star hotel. Situated on Kai Bae Beach, Gajapuri Resort & Spa is a 15-minute drive from Ao Sapparod Pier. Behind you, the resort backs onto a natural rainforest reserve with beautiful mountain views.
Gajapuri Resort & Spa offers a luxurious tropical experience with its spa and outdoor jacuzzi pool. Its spacious air-conditioned wooden cottages have free internet and flat-screen TVs. A unique wood pathway will bring you to your spacious 2-bedroom cottage villa in the 'Pool Villa Suites' – with swimming pool and private Jacuzzi in the beautifully gardened wood balcony.
You can also choose one of four larger log villas; each includes the unique privacy of their own pools, designed to offer the ultimate in luxury and intimate comfort. There are 14 private cottage resort homes nestled deeper into the trees for those who prefer even more privacy within nature. Their interiors are designed simply with a spacious and comfortable open plan.
GajaPinn Spa features traditional Thai massage, while the resort's library contains a wide selection of movies and books. Gajapuri Resort also provides a tour desk and souvenir shop.

The open-air Matang Restaurant serves Thai and Western cuisine, as well as steak and seafood dishes. The Restaurant offers an all-day dining options with light snacks or a mixture of Thai favorites or Western cuisine. There are also great happy hour deals every evening.
construction in the resort will extend to October 9, 2012.

Period
Price (THB)
Extra Person (THB)
Extra Children Breakfast (THB)
Room Type : Lanai Deluxe (No child under 16) See All
18 Apr, 2017 - 31 Oct, 2017
3,450
-
Room Type : Pool Villa See All
18 Apr, 2017 - 31 Oct, 2017
7,390
1,000
Room Type : Pool Villa Suite See All
18 Apr, 2017 - 31 Oct, 2017
10,450
1,000
Room Type : Lanai Beach (No child under 16) See All
18 Apr, 2017 - 31 Oct, 2017
4,370
-
Room Type : Beachfront Villa See All
18 Apr, 2017 - 31 Oct, 2017
4,370
-
Room Type : Deluxe See All
18 Apr, 2017 - 31 Oct, 2017
3,450
1,000
Room Type : Superior See All
18 Apr, 2017 - 31 Oct, 2017
2,960
-
Remark:
• Rate quoted are per room/ night. Based on single/ double occupancy include ABF.
• Child Policy: Children 4-12 yrs. sharing bed with the parents are free of charge, meal rate will be 50% discount.
• Maximum 2 child allowed per room and maximum one extra bed allowed per room.
• Meal Rates:
- ABF 400 Baht for Adult.
- ABF 200 Baht for Child 4-12 years old.
Check in time : 14.00 PM
Check out time : 12.00 PM (Noon)

- No pets allowed in the resort
- All rooms are non-smoking
- Gala Dinner on Dec 24 - X'mas Eve Dinner : Adult 2,000 THB / Child 1,000 THB
- Gala Dinner on Dec 31 - New Year Dinner : Adult 3,000 THB / Child 1,500 THB
Surcharges

Period
Extra Charge(Adult)
Extra Charge(Children)
Minimum Night(s) Stay
Compulsory Gala Dinner on 24 Dec 17
24 Dec, 2017 - 24 Dec, 2017
2,000
1,000
-
Compulsory Gala Dinner on 31 Dec 17
31 Dec, 2017 - 31 Dec, 2017
3,000
1,500
-
Compulsory Gala Dinner on 24 Dec 18
24 Dec, 2018 - 24 Dec, 2018
2,000
1,000
-
Compulsory Gala Dinner on 31 Dec 18
31 Dec, 2018 - 31 Dec, 2018
3,000
1,500
-