Away Koh Samui Elements Resort and Spa Edit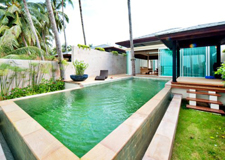 No. of Rooms:

33

Area:

Koh Samui

Address:

53/5 Moo 4, Phang Ka, T. Taling Ngam, Koh Samui, Suratthani 84140
Away Koh Samui Elements Resort and Spa located on Taling Ngam Beach, is about 1.2 km from the island's snake farm. Samui Airport is 40 km from the resort. Elements Boutique Resort presents a peaceful beachside getaway in South-Western Koh Samui. Luxurious spa services, gourmet restaurant and the pools as well as free Wi-Fi are available.

Uniquely designed, guestrooms at Elements Resort feature stylish wooden floors and warm lighting to create a cozy atmosphere. Each comes with a flat-screen satellite TV and DVD player, all of which can be enjoyed from the sofa seating area.

While Mediterranean and other Asian favourites can be enjoyed at Fai Dining.

Period
Price (THB)
Extra Person (THB)
Extra Children Breakfast (THB)
Room Type : De-lux Apartment See All
15 Sep, 2017 - 21 Dec, 2017
4,171
1,000
Room Type : Garden Suite with pool See All
15 Sep, 2017 - 21 Dec, 2017
5,959
1,000
Room Type : 2 Bedroom Luxury Beachfront Villa See All
15 Sep, 2017 - 21 Dec, 2017
13,705
1,000
Room Type : 2 Bedroom Luxury Beachfront Villa (Room Only) See All
15 Sep, 2017 - 21 Dec, 2017
12,513
1,000
Room Type : Garden Suite with pool (Room Only) See All
15 Sep, 2017 - 21 Dec, 2017
5,244
1,000
Room Type : De-lux Apartment (Room Only) See All
15 Sep, 2017 - 21 Dec, 2017
3,456
1,000
Promotion : Free & Easy 5 Nights

Period 11 Sep, 2016 - 20 Dec, 2016
Can not use this promotion for Long Weekend
Room Type
Price
Extra Person
Extra Children Breakfast
0
-
Promotion : Stay 3 Pay for 2

Period 11 Sep, 2016 - 20 Dec, 2016
Can not use this promotion for Long Weekend
Room Type
Price
Extra Person
Extra Children Breakfast
0
-
Promotion : Early Bird Promotion 30 Days : 11 Sep - 20 Dec 16

Book 30 days in advance. Travel period 11 Sep, 2016 - 20 Dec, 2016

Room Type
Price
Extra Person
Extra Children Breakfast
2 Bedroom Luxury Beachfront Villa
12,335
1,000
Garden Suite with pool
5,243
1,000
De-lux Apartment
3,336
1,000
2 Bedroom Luxury Beachfront Villa (Room Only)
11,262
1,000
Garden Suite with pool (Room Only)
4,290
1,000
De-lux Apartment (Room Only)
2,765
1,000
Promotion : Early Bird Promotion 30 Days : 01 Mar - 09 Apr 17

Book 30 days in advance. Travel period 01 Mar, 2017 - 09 Apr, 2017

Room Type
Price
Extra Person
Extra Children Breakfast
2 Bedroom Luxury Beachfront Villa
12,335
1,000
Garden Suite with pool
5,243
1,000
De-lux Apartment
3,336
1,000
2 Bedroom Luxury Beachfront Villa (Room Only)
11,262
1,000
Garden Suite with pool (Room Only)
4,290
1,000
De-lux Apartment (Room Only)
2,765
1,000
Promotion : Early Bird Promotion 30 Days : 10 Apr - 20 Apr 17

Book 30 days in advance. Travel period 10 Apr, 2017 - 20 Apr, 2017

Room Type
Price
Extra Person
Extra Children Breakfast
2 Bedroom Luxury Beachfront Villa
14,480
1,000
Garden Suite with pool
6,028
1,000
De-lux Apartment
4,052
1,000
2 Bedroom Luxury Beachfront Villa (Room Only)
13,406
1,000
Garden Suite with pool (Room Only)
5,014
1,000
De-lux Apartment (Room Only)
3,444
1,000
Promotion : Early Bird Promotion 30 Days : 21 Apr - 21 Jul 17

Book 30 days in advance. Travel period 21 Apr, 2017 - 21 Jul, 2017

Room Type
Price
Extra Person
Extra Children Breakfast
2 Bedroom Luxury Beachfront Villa
12,335
1,000
Garden Suite with pool
5,243
1,000
De-lux Apartment
3,336
1,000
2 Bedroom Luxury Beachfront Villa (Room Only)
11,262
1,000
Garden Suite with pool (Room Only)
4,290
1,000
De-lux Apartment (Room Only)
2,765
1,000
Promotion : Early Bird Promotion 30 Days : 22 Jul - 14 Sep 17

Book 30 days in advance. Travel period 22 Jul, 2017 - 14 Sep, 2017

Room Type
Price
Extra Person
Extra Children Breakfast
Garden Suite with pool
5,976
1,200
2 Bedroom Luxury Beachfront Villa (Room Only)
12,871
1,200
De-lux Apartment
4,254
1,200
2 Bedroom Luxury Beachfront Villa
13,943
1,200
Garden Suite with pool (Room Only)
4,963
1,200
De-lux Apartment (Room Only)
3,647
1,200
Promotion : Early Bird Promotion 30 Days : 15 Sep - 21 Dec 17

Book 30 days in advance. Travel period 15 Sep, 2017 - 21 Dec, 2017

Room Type
Price
Extra Person
Extra Children Breakfast
2 Bedroom Luxury Beachfront Villa
12,335
1,000
Garden Suite with pool
5,243
1,000
De-lux Apartment
3,336
1,000
2 Bedroom Luxury Beachfront Villa (Room Only)
11,262
1,000
Garden Suite with pool (Room Only)
4,290
1,000
De-lux Apartment (Room Only)
2,765
1,000
Promotion : Early Bird Promotion 60 Days : 11 Sep - 20 Dec 16

Book 60 days in advance. Travel period 11 Sep, 2016 - 20 Dec, 2016

Room Type
Price
Extra Person
Extra Children Breakfast
2 Bedroom Luxury Beachfront Villa
11,649
1,000
Garden Suite with pool
4,916
1,000
De-lux Apartment
2,919
1,000
2 Bedroom Luxury Beachfront Villa (Room Only)
10,636
1,000
Garden Suite with pool (Room Only)
4,022
1,000
De-lux Apartment (Room Only)
2,419
1,000
Promotion : Early Bird Promotion 60 Days : 01 Mar - 09 Apr 17

Book 60 days in advance. Travel period 01 Mar, 2017 - 09 Apr, 2017

Room Type
Price
Extra Person
Extra Children Breakfast
2 Bedroom Luxury Beachfront Villa
11,649
1,000
Garden Suite with pool
4,916
1,000
De-lux Apartment
2,919
1,000
2 Bedroom Luxury Beachfront Villa (Room Only)
10,636
1,000
Garden Suite with pool (Room Only)
4,022
1,000
De-lux Apartment (Room Only)
2,419
1,000
Promotion : Early Bird Promotion 60 Days : 10 Apr - 20 Apr 17

Book 60 days in advance. Travel period 10 Apr, 2017 - 20 Apr, 2017

Room Type
Price
Extra Person
Extra Children Breakfast
2 Bedroom Luxury Beachfront Villa
14,480
1,000
Garden Suite with pool
5,673
1,000
De-lux Apartment
3,814
1,000
2 Bedroom Luxury Beachfront Villa (Room Only)
13,406
1,000
Garden Suite with pool (Room Only)
4,719
1,000
De-lux Apartment (Room Only)
3,242
1,000
Promotion : Early Bird Promotion 60 Days : 21 Apr - 21 Jul 17

Book 60 days in advance. Travel period 21 Apr, 2017 - 21 Jul, 2017

Room Type
Price
Extra Person
Extra Children Breakfast
2 Bedroom Luxury Beachfront Villa
11,649
1,000
Garden Suite with pool
4,916
1,000
De-lux Apartment
2,919
1,000
2 Bedroom Luxury Beachfront Villa (Room Only)
10,636
1,000
Garden Suite with pool (Room Only)
4,022
1,000
De-lux Apartment (Room Only)
2,419
1,000
Promotion : Early Bird Promotion 60 Days : 22 Jul - 14 Sep 17

Book 60 days in advance. Travel period 22 Jul, 2017 - 14 Sep, 2017

Room Type
Price
Extra Person
Extra Children Breakfast
2 Bedroom Luxury Beachfront Villa (Room Only)
12,871
1,200
De-lux Apartment (Room Only)
3,432
1,200
Garden Suite with pool
5,625
1,200
De-lux Apartment
4,004
1,200
Garden Suite with pool (Room Only)
4,671
1,200
2 Bedroom Luxury Beachfront Villa
13,943
1,200
Promotion : Early Bird Promotion 60 Days : 15 Sep - 21 Dec 17

Book 60 days in advance. Travel period 15 Sep, 2017 - 21 Dec, 2017

Room Type
Price
Extra Person
Extra Children Breakfast
2 Bedroom Luxury Beachfront Villa
11,649
1,000
Garden Suite with pool
4,916
1,000
De-lux Apartment
2,919
1,000
2 Bedroom Luxury Beachfront Villa (Room Only)
10,636
1,000
Garden Suite with pool (Room Only)
4,022
1,000
De-lux Apartment (Room Only)
2,419
1,000
Surcharges

Period
Extra Charge(Adult)
Extra Charge(Children)
Minimum Night(s) Stay
Compulsory New Year's Eve Grand Dinner on 31.12.16
31 Dec, 2016 - 31 Dec, 2016
5,500
2,750
-
Bonus Night(s)

Breakfast(Adult)
Breakfast(Child)
ใช้ในช่วง Long Weekend
Stay 3 Pay for 2
11 Sep, 2016 - 20 Dec, 2016
-
-
N