Bosswin Home Resort Edit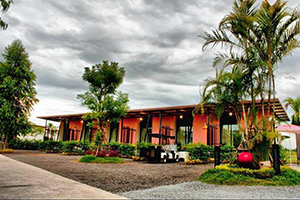 No. of Rooms:

29

Area:

Pak Thong Chai

Address:

Bahnhan M.18 Takoo Pak Thong Chai, Nakhon Ratchasima 30150
Bosswin Home Resort is peaceful and shady resort with paddy field atmosphere and pure air of nature, located in Nakhon Ratchasima, accommodating up to 3 people, Just 3 km from Wat Na Phra That, 4km from Pak Thong Chai Silk and Cultural Center and 15 km from Nakhon Rachasima Zoo.

The resort has 4 room types.

10 units of villa with parking and a small area for doing activities. Slogan of Pak Thong Chai District is the name of the villas.

3 units of Garden House which are designed in japanese style. They are Baan Din(Land House), Baan Nam(Water House) and Baan Fah(Sky House).

6 units of Villa Room set along the rice field. Nakhon Rachasima's District is the name of the rooms.

10 units of Garden House, situated in the garden. Thai flower names are set as the name of the houses.

Air condition, Cable TV, refrigerator, private bathroom, hot shower and Internet Wi-Fi are fully equipped in all room types.

The resort offers free breakfast and meeting room which is available up to 100 people with modern facilities. Sauna and fitness are free of charge when guests minimum stay 6 people.