Blue Hill Beach Resort Edit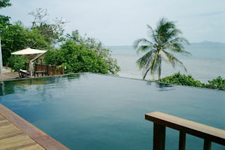 No. of Rooms:

30

Area:

Koh Phangan

Address:

117/9 Moo 6, Haad Rin Nai, Koh Phangan, Suratthani 84280
Blue Hill Resort is a place where tranquility meets scenery. The resort is nestled in tropical gardens that cascade down the hillside to the unspoiled beauty of haad rin nai (the property is 80 meters long beachfront). Blue Hill is also conveniently located just 5 minutes away from ferry pier, haad rin market and the nightlife of haad rin (the home of Full Moon Party). All of them are the most attractive destinations of Phangan tourism.

Period
Price (THB)
Extra Person (THB)
Extra Children Breakfast (THB)
Room Type : Sea view Villa See All
Room Type : Sea view Deluxe See All


A minimum stay of 3 nights is required during Christmas, 5 nights during full Moon and New Year's Period.




Free transfer-in from thongsala or haad rin pier, transer out Thongsala 150 THB/person minimum 2 person/trip & Haad Rin 50 THB/person minimum 2 person/trip.




if pick -up is required please book at the hotel 2 days before arrival.




Maximum Occupancy: (2 adults or 2 adults with 1 child under 12 years: minimum stay of 5 nights is required during Full Moon and New Year's period.




We reserve the right to change these prices, product details, all terms and conditions at anytime without prior notice.


Surcharges

Period
Extra Charge(Adult)
Extra Charge(Children)
Minimum Night(s) Stay
Full Moon Party (Jan '2014)
13 Jan, 2014 - 18 Jan, 2014
-
-
5
Full Moon Party (Jul '2014)
11 Jul, 2014 - 16 Jul, 2014
-
-
5
Full Moon Party (Nov '2014)
04 Nov, 2014 - 09 Nov, 2014
-
-
5
Full Moon (Dec 14)
03 Dec, 2014 - 09 Dec, 2014
-
-
3
Peak Season : Dec 14
22 Dec, 2014 - 08 Jan, 2015
-
-
-
Gala Dinner
31 Dec, 2014 - 31 Dec, 2014
2,500
1,000
-
Full Moon Party (Feb '2015)
10 Feb, 2015 - 16 Feb, 2015
-
-
5
Full Moon Party (Mar '2015)
02 Mar, 2015 - 10 Mar, 2015
-
-
5
Full Moon Party (Apr '2015)
01 Apr, 2015 - 09 Apr, 2015
-
-
5
Full Moon Party (May '2015)
30 Apr, 2015 - 06 May, 2015
-
-
5
Full Moon Party (Aug '2015)
30 Jul, 2015 - 03 Aug, 2015
-
-
5
Full Moon Party (Sep '2015)
27 Aug, 2015 - 02 Sep, 2015
-
-
5
Full Moon Party (Oct '2015)
25 Sep, 2015 - 04 Oct, 2015
-
-
5
Full Moon Party (Oct 2015)
27 Oct, 2015 - 27 Oct, 2015
-
-
5
Full Moon Party (Nov '2015)
21 Nov, 2015 - 30 Nov, 2015
-
-
-
Full Moon Party (Dec '2015)
20 Dec, 2015 - 05 Jan, 2016
-
-
-