Belle Villa Pai Edit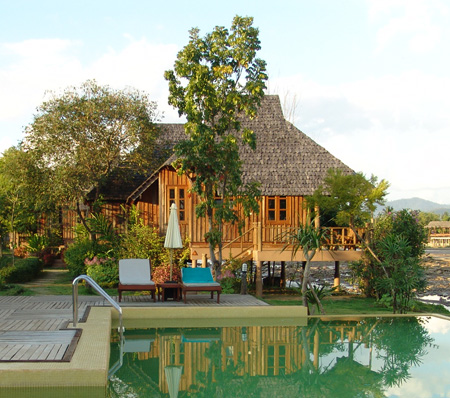 No. of Rooms:

23

Area:

Pai

Address:

113 Moo 6 HuayPoo - WiangNua Rd., T. WiangTai, A. Pai, Maehongson 58130
Finding a second paradise hide-out at Pai, some 2.30 hours drive from Chiangmai city. The tiny northern town, is fast becoming an artists haunt, a perfect antidode to the bustle of modern Thailand. With its burbling streams, impeccable manicured fields and surrounding mountains, shrouded in early morning mists, this tiny town with lots of activities midway between Chiangmai and Mae Hong Son, is indeed a refreshing place to visit.
Belle Villa Resort Pai, your next destination base to enjoy all the above, just a good walk from Pai city, is a serene boutique resort located amidst nature and rice field. Here at Pai, awaits your discovery at it's fascinating culture and enjoy endless activities such as excursion to "Pheeman Cave" one of the unseen in Thailand heritage, take a walk through Pai market and explore Pai' scenic view from Pai canyon and you will realize that it's difficult to describe the charm of Pai that draw visitors back time and again, and only to be there by your own self can tell why.

Period
Price (THB)
Extra Person (THB)
Extra Children Breakfast (THB)
Room Type : Deluxe Pool Access See All
01 Mar, 2017 - 31 Oct, 2017
1,720
800
30 Dec, 2015 - 03 Jan, 2016
3,990
800
Room Type : Deluxe Cottage See All
01 Mar, 2017 - 31 Oct, 2017
2,300
800
30 Dec, 2015 - 03 Jan, 2016
4,100
800
Room Type : Deluxe Room See All
01 Mar, 2017 - 31 Oct, 2017
1,500
800
30 Dec, 2015 - 03 Jan, 2016
3,450
800
- Rates are inclusive of service charge, VAT and breakfast.
**Compulsory : New Year Eve's Dinner & Party on 31 Dec 15 : Adult 1,600 THB net/person Child (4-11 years) 800 THB net/person**
Meal Rates:
- American Breakfast 300 net
- Lunch 350, 450 net
- Dinner 550, 650 net
- B.B.Q. Dinner 650 net
- Child (4-11 years) is 50% discount from the above meal rates.
- Hotel Transfer : Advance request with flight details is very much appreciated
- From Chiangmai - Pai By Private van: Bht 3,500 net / private van / one way/ (Include Gas)
- Complimentary & Child
- Compliment of welcome drink upon arrival
- A child (4-11 yrs) shares room with the parents is free of charge, maximum 1(one) child per room. No Extra bed and breakfast.
- Breakfast for child will be charged at 50% discount from hotel rate.
- Full prepayment. Visa/master Card is accepted plus 3.5% service fee. Without credit card guarantee or cash deposit, no booking is confirmed.
- We reserved the right to change these prices, product details, all terms and conditions at anytime without prior notice.
Surcharges

Period
Extra Charge(Adult)
Extra Charge(Children)
Minimum Night(s) Stay
New Years Eve Gala Dinner on 31 Dec 15
31 Dec, 2016 - 31 Dec, 2016
1,500
800
-