Bedtime Huahin Edit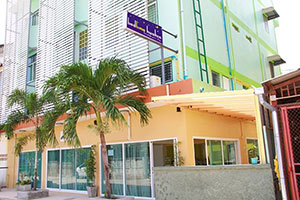 No. of Rooms:

16

Area:

Hua Hin

Address:

17/79-81 Huahin 23/1 Phetkasem rd. Huahin, Prachuabkhirikhan 77110
Bedtime Huahin Hotel situated at 17/79-81 Huahin 23/1 Phetkasem rd. Just 23 meters away from the beach. About 500 meters away from the sea.
Bedtime Huahin Hotel has 16 rooms, including a single bedroom, twin bedrooms for couples and the master bedroom for a family. We have many variety of rooms for you.
Each rooms have a comfortable appliances are such as air-conditioning, TV, refrigerator, water heater, Hair dryer, Wifi Internnet and breakfast.
The hotel's facilities are include Breakfast, Room Service, nibble on tea + coffee service, a bicycle and DVD.

Period
Price (THB)
Extra Person (THB)
Extra Children Breakfast (THB)
Room Type : Triple Room See All
04 Apr, 2015 - 06 Apr, 2015
1,590
-
01 May, 2015 - 03 May, 2015
1,590
-
30 May, 2015 - 01 Jun, 2015
1,590
-
30 Jul, 2015 - 02 Aug, 2015
1,590
-
12 Aug, 2015 - 13 Aug, 2015
1,590
-
23 Oct, 2015 - 25 Oct, 2015
1,590
-
19 Feb, 2016 - 21 Feb, 2016
1,590
-
Room Type : Family Suite See All
04 Apr, 2015 - 06 Apr, 2015
3,890
-
01 May, 2015 - 03 May, 2015
3,890
-
30 May, 2015 - 01 Jun, 2015
3,890
-
30 Jul, 2015 - 02 Aug, 2015
3,890
-
12 Aug, 2015 - 13 Aug, 2015
3,890
-
23 Oct, 2015 - 25 Oct, 2015
3,890
-
19 Feb, 2016 - 21 Feb, 2016
3,890
-
Room Type : Triple Plus Room See All
04 Apr, 2015 - 06 Apr, 2015
1,890
-
01 May, 2015 - 03 May, 2015
1,890
-
30 May, 2015 - 01 Jun, 2015
1,890
-
30 Jul, 2015 - 02 Aug, 2015
1,890
-
12 Aug, 2015 - 13 Aug, 2015
1,890
-
23 Oct, 2015 - 25 Oct, 2015
1,890
-
19 Feb, 2016 - 21 Feb, 2016
1,890
-
Room Type : Single Room See All
04 Apr, 2015 - 06 Apr, 2015
690
-
01 May, 2015 - 03 May, 2015
690
-
30 May, 2015 - 01 Jun, 2015
690
-
30 Jul, 2015 - 02 Aug, 2015
690
-
12 Aug, 2015 - 13 Aug, 2015
690
-
23 Oct, 2015 - 25 Oct, 2015
690
-
19 Feb, 2016 - 21 Feb, 2016
690
-
Room Type : Double /Twin Room See All
04 Apr, 2015 - 06 Apr, 2015
1,290
400
01 May, 2015 - 03 May, 2015
1,290
400
30 May, 2015 - 01 Jun, 2015
1,290
400
30 Jul, 2015 - 02 Aug, 2015
1,290
400
12 Aug, 2015 - 13 Aug, 2015
1,290
400
23 Oct, 2015 - 25 Oct, 2015
1,290
400
19 Feb, 2016 - 21 Feb, 2016
1,290
400
Room Type : See All
30 Dec, 2015 - 02 Jan, 2016
0
-