Ban Sainai Resort Edit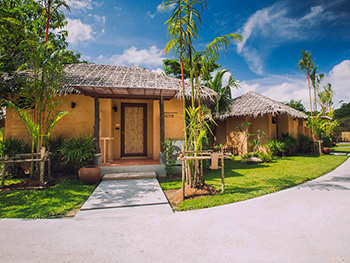 No. of Rooms:

Area:

Ao Nang

Address:

550, Soi Aonang 11/1, Moo 2, Tambon Aonang, Amphur Muang, Krabi 8100
Ban Sainai Resort is located among tranquil tropical greenery with its unique setting on a small hill, surrounded by coconut groves against a backdrop of sheer limestone cliffs. The resort simply presents a lifestyle of the locals, with a lush environment and breathtaking nature-made beauty.
Ban Sainai Resort offers 25 simple yet comfortable deluxe cottages, divided into 5 categories; The Cliff, The Coconut, The Pond, The Sainai Jacuzzi & The Family Cottage which is ideal for family.
Each cottage is with unique Southern Thai style with a private balcony and a seating area. Each spacious cottage equipped finely with an Air-Condition, Flat TV & Satellite, Safety Deposit Box and An En Suite Bathroom.
Staying with us, you will enjoy your holiday with our saltwater system swimming pool overlooking limestone cliffs as a magnificent backdrop. Other services included 24 Hours Front Desk Service, Tour Counter, Room Service, Pool Sala, Restaurant. Laundry Service, Airport Transfer Service and etc.

Period
Price (THB)
Extra Person (THB)
Extra Children Breakfast (THB)
Room Type : Triplet Premier Cottage See All
16 Apr, 2017 - 31 Oct, 2017
4,400
-
20 Dec, 2017 - 10 Jan, 2018
9,057
-
Room Type : Cliff View Jacuzzi Cottage See All
16 Apr, 2017 - 31 Oct, 2017
4,500
1,200
20 Dec, 2017 - 10 Jan, 2018
7,866
1,500
Room Type : Tropical Family Cottage See All
16 Apr, 2017 - 31 Oct, 2017
6,800
-
20 Dec, 2017 - 10 Jan, 2018
12,752
-
Room Type : Grand Lake View Cottage See All
16 Apr, 2017 - 31 Oct, 2017
4,400
1,200
20 Dec, 2017 - 10 Jan, 2018
9,057
1,500
Room Type : The Cliff Cottage See All
16 Apr, 2017 - 31 Oct, 2017
3,000
1,200
20 Dec, 2017 - 10 Jan, 2018
6,317
1,500
Room Type : Sainai Jacuzzi Cottages See All
16 Apr, 2017 - 31 Oct, 2017
3,800
1,200
20 Dec, 2017 - 10 Jan, 2018
7,389
1,500
Room Type : Family Cottage See All
16 Apr, 2017 - 31 Oct, 2017
5,700
-
20 Dec, 2017 - 10 Jan, 2018
11,322
-
Room Type : The Pond Cottages See All
16 Apr, 2017 - 31 Oct, 2017
3,500
1,200
20 Dec, 2017 - 10 Jan, 2018
7,032
1,500
Room Type : The Coconut Cottages See All
16 Apr, 2017 - 31 Oct, 2017
3,000
1,200
20 Dec, 2017 - 10 Jan, 2018
6,674
1,500