Away Suansawan Edit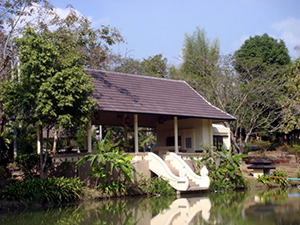 No. of Rooms:

47

Area:

Maerim

Address:

43/1 Moo 6, Maerim-Samoeng Road, A. Maerim, Chiangmai 50180
Suansawan Chiang Mai (formerly Away Suansawan Maerim, Chiang Mai): Ideally located in the beautiful and tranquil Mae Rim Valley.
Suansawan Chiang Mai is a superb resort offering a full range of recreational activities and facilities including two swimming pools, spa treatment & massage, fitness center with sauna, and a lakeside relaxation sala with library surrounded by the finest relaxation environment and nature.
The resort features the understated 47 rooms & villas in huge sub-tropical surroundings with more than 1000 trees, an impressive lake, 3 fishponds and many garden areas. Away Suansawan Chiang Mai, Centara Boutique Collection offers guests a sense of calmness and lovely views over the neighbouring mountains, a perfect place to relax and rejuvenate or to explore the well known Mae Rim Valley.

Period
Price (THB)
Extra Person (THB)
Extra Children Breakfast (THB)
Room Type : Deluxe Suite Poolside See All
Room Type : Family Vacation Villa See All
Room Type : Family Vacation Suite See All
Room Type : Superior See All
Room Type : Deluxe Suite Garden See All
Room Type : Garden Spa Villa See All
Room Type : Deluxe Suite Lakeside See All
- Room rates are on per room per night basis and subject to 10% service charge and 7% prevailing government tax.
- Free breakfast is included in room rates (subject to room configurations & number of registered guests accepted for each room type),
- All rates are subject to change without prior notice.
- Full prepayment. Visa/master Card is accepted plus 3.5% service fee. Without credit card guarantee or cash deposit, no booking is confirmed.
- We reserved the right to change these prices, product details, all terms and conditions at anytime without prior notice.
Promotion : Special Offer Book & stay 3 consecutive nights

Period 12 Mar, 2012 - 31 Oct, 2012

Room Type
Price
Extra Person
Extra Children Breakfast
Family Vacation Villa
2,498

( ศุกร์ เสาร์ ) 0

853
Deluxe Suite Lakeside
1,706

( ศุกร์ เสาร์ ) 0

853
Deluxe Suite Poolside
1,828

( ศุกร์ เสาร์ ) 0

853
Family Vacation Suite
2,498

( ศุกร์ เสาร์ ) 0

853
Superior
1,160

( ศุกร์ เสาร์ ) 0

853
Deluxe Suite Garden
1,280

( ศุกร์ เสาร์ ) 0

853
Garden Spa Villa
1,462

( ศุกร์ เสาร์ ) 0

853
Promotion Condition

Special Offer during Now - 31 Oct 12 :
Book & stay 3 consecutive nights