Andaman Resort Edit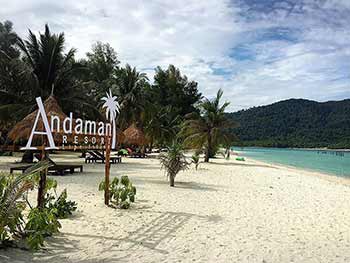 No. of Rooms:

50

Area:

Koh Lipe

Address:

36 Moo 7, Sunrise Beach, Sunrise Beach, Koh Lipe,, Satun 91000
Andaman Resort Andaman Resort is located directly on the beautiful Sunrise Beach of Koh Lipe, in Southern Thailand.
A casual, welcoming informality, our resort is synonymous with unparalleled relaxation.Nestled between cliffs and directly on a palm fringed beach, each room offers postcard vistas of romantic beaches, blue waters, and sailboats lazily drifting by.
Sugary sand beaches. Whispering breezes. Tranquil, turquoise waters. Family owned and operated.

Period
Price (THB)
Extra Person (THB)
Extra Children Breakfast (THB)
Room Type : Deluxe Beach Villa (B02-B07) See All
21 Oct, 2017 - 19 Dec, 2017
4,800
-
13 Apr, 2018 - 16 Apr, 2018
6,100
-
Room Type : Deluxe Beach Villa (B01) See All
21 Oct, 2017 - 19 Dec, 2017
6,000
-
13 Apr, 2018 - 16 Apr, 2018
7,100
-
Room Type : Deluxe Beach Villa (B08-B10) See All
21 Oct, 2017 - 19 Dec, 2017
4,350
-
13 Apr, 2018 - 16 Apr, 2018
5,600
-
Room Type : Beach View See All
21 Oct, 2017 - 19 Dec, 2017
4,850
-
13 Apr, 2018 - 16 Apr, 2018
6,150
-
Room Type : Beachfront Villa (First Row) See All
21 Oct, 2017 - 19 Dec, 2017
4,850
750
13 Apr, 2018 - 16 Apr, 2018
6,150
750
Room Type : Beachfront Villa (Second Row) See All
21 Oct, 2017 - 19 Dec, 2017
4,250
750
13 Apr, 2018 - 16 Apr, 2018
5,600
750
Room Type : Villa A (V09-V13) See All
21 Oct, 2017 - 19 Dec, 2017
2,850
-
13 Apr, 2018 - 16 Apr, 2018
3,750
-
Room Type : Villa B (V01-V08) See All
21 Oct, 2017 - 19 Dec, 2017
3,600
550
13 Apr, 2018 - 16 Apr, 2018
4,700
550
Room Type : Viewpoint Villa (2nd Floor) See All
21 Oct, 2017 - 19 Dec, 2017
2,650
-
13 Apr, 2018 - 16 Apr, 2018
3,200
-
Room Type : Viewpoint Villa (1st Floor) See All
21 Oct, 2017 - 19 Dec, 2017
2,600
550
13 Apr, 2018 - 16 Apr, 2018
3,200
550
Room Type : Garden View See All
21 Oct, 2017 - 19 Dec, 2017
2,600
550
13 Apr, 2018 - 16 Apr, 2018
3,400
550
Room Type : Family Garden View See All
21 Oct, 2017 - 19 Dec, 2017
4,750
-
13 Apr, 2018 - 16 Apr, 2018
5,600
-
Room Type : Family Fan See All
21 Oct, 2017 - 19 Dec, 2017
2,800
-
13 Apr, 2018 - 16 Apr, 2018
3,200
-
Room Type : Standard Fan (B) See All
21 Oct, 2017 - 19 Dec, 2017
2,350
-
13 Apr, 2018 - 16 Apr, 2018
2,650
-