Tanaosri Resort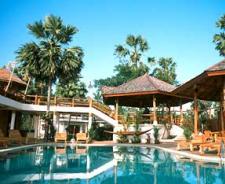 No. of Rooms:

64

Area:

Pranburi

Address:

146/7 Paknampran Beach Road, Paknampran, A. Pranburi, Prachuabkhirikhan 77120
Tanaosri Resort & Spa is a beautiful small resort, overlooking Pranburi's spectacular Paknampran Bay beach. The views scan across a sweeping stretch of some of the world's finest beaches. The resort is located near the Sam Roi Yod Mountains, a national park. The heart of Hua Hin town is easily accessible by transport and takes only 25 minutes.
The bedrooms at the Tanao Sri Resort have their own private entrance lobby and en suite bathroom with hot / cold water showers. A special feature of the bathrooms is the glass window giving you a view of the sea. The rooms are hexagon shaped and are a huge 45 square meters. A large balcony overlooking the man made canal or the sea, the guests can sitting out and enjoying the year round warm weather with a real pleasure.
Each room is equipped with air-conditioning, large double king size beds, direct dial telephones, Cable TV, large mini bar / fridge, large windows and a high ceiling. Relaxation options include an outdoor swimming pool surrounded by tables and chairs and a spa where guests can have massages. A well-equipped gym is also available.
Guests of Tanaosri can enjoy a large breakfast made with fresh, local ingredients. Thai and international dishes are also served for lunch and dinner on the hotel's terrace, which offers panoramic views of the sea.
Period
Price (THB)
Extra Person (THB)
Extra Children Breakfast (THB)
Room Type : Conner Suite See All
01 Nov, 2016 - 30 Apr, 2017
2,750
800
29 Dec, 2016 - 03 Jan, 2017
3,800
800
Room Type : Superior Room See All
01 Nov, 2016 - 30 Apr, 2017
2,100
800
29 Dec, 2016 - 03 Jan, 2017
3,200
800
Room Type : Garden Villa See All
01 Nov, 2016 - 30 Apr, 2017
2,450
800
29 Dec, 2016 - 03 Jan, 2017
3,500
800
Child Policy :
Child 1-3 years old free of charge baby cot as on request
Child 4-11 years old sharing room with parent with one extra bed is free of charge and meal rate half rate.
Meal Rate:
American breakfast Table Hotel Lunch Table Hotel Dinner
200 300 450
Dinner Barbecue Seafood with one glass of wine. 700 Persons# Shuttle Bus:
From Tanaosri Resort 12:00 Noon to HuaHin
From HuaHin to Tanaosri Resort 4:00pm
Late Check Out :
Charge for half price of contract rate from at noon to 6 pm. After 6 pm full day charge.
Bonus Night(s)

Breakfast(Adult)
Breakfast(Child)
ใช้ในช่วง Long Weekend
Stay 4 nights pay 3 nights
16 May, 2012 - 31 Oct, 2012
-
-
Y
Stay 7 nights pay 5 nights
16 May, 2012 - 31 Oct, 2012
-
-
Y
Stay 10 nights pay 7 nights
16 May, 2012 - 31 Oct, 2012
-
-
Y
Stay 14 nights pay 10 nights
16 May, 2012 - 31 Oct, 2012
-
-
Y