Beach Village Thailand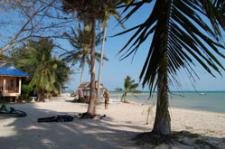 No. of Rooms:

N/A

Area:

Koh Phangan

Address:

100/5 Moo 1, Baan Tai Beach, Koh Phangan, Suratthani 84280
Ideally location on Baan Tai, Holiday Beach Resort with its more than 160 meters of beach line and 51 bungalows is the largest resort in that area. Now and always you can feel original Phangan ambience here-enjoying sun on our long sandy beach, chilling in the bar or just laying in the hammock under the stars.You will never find it boring here - on Site Kite surfing center, fire show lessons, massage point, cinema, bar and parties on the beach - all will help to make your staying with us exciting and unforgettable..There are a variety of styles of bungalows and also in our resort you get the chance to make friends from all around the worlds.If you want to join one of world-famous island's party, from our resort you don't need to go far - few minutes taxi ride to the Half-moon and Black-moon,15 minutes to the Full-moon, walking distance to the city center.
Period
Price (THB)
Extra Person (THB)
Extra Children Breakfast (THB)
Room Type : Fan See All
Room Type : Standard A/C See All
Room Type : Superior Beachfront A/C See All
1. Extra Bed A/c Rooms @ 300 THB per night
2. Fan Rooms @ 200 THB per night
3. Free Transfer from Thongsala pier to resort and 50 THB from resort to Thongsala Pier.
4. Exclude Breakfast .
5. Breakfast are not included and can be booked for 120 THB per person.
6. Massage point on the beach (from 250 THB/hour)
7. Motorbike and car rental (from 200 THB/day for automatic motorbike).
8. Full Moon reservations: minimum stay 4 nights. Full Moon Week: 3 days before and after Full Moon.
9. Christmas reservations: minimum stay 7 nights, and 3 days before Christmas until 3 days after new years.
10. New Year reservations: minimum stay 7 nights,
11. Full Moon Dates : 2011
* 16th June
* 17th July
* 14th Aug
* 12th Sep
* 12th Oct
* 10th Nov
* 10th Dec
12. Full Moon Dates : 2012
* 08th Jan
* 08th Feb
* 07th Mar
* 06th Apr
* 04th Jun
* 03rd Jul
* 04th Aug
* 01st Sep
* 30th Sep
* 29th Oct
* 28th Nov
13. We reserve the right to change these prices, product details, all terms and conditions at anytime without prior notice.