The Greenery Resort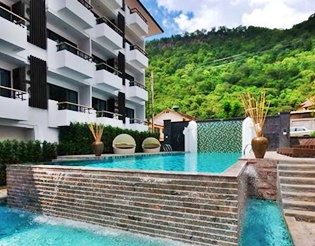 No. of Rooms:

256

Area:

Khao Yai Nakorn Ratchasima

Address:

188/1 Moo 5, T. Moosee A. Pakchong, Nakhon Ratchasima 30130
The Greenery Resort Khao Yai is located within the estimated drive time from Bangkok is 2 hours from Bangkok and 1.5 hrs via a 6-lane motorway from The Suvannabhumi International Airport.
The Greenery Resort offers 256 rooms at the resort feature contemporary decor and tasteful furnishings. Some of these rooms include balconies for guests to enjoy the panoramic views of the magnificent mountain ranges, fresh air and nature.
Period
Price (THB)
Extra Person (THB)
Extra Children Breakfast (THB)
Room Type : Greenery Room See All
Room Type : Premier Room See All
Room Type : Executive See All
Room Type : Dewdrops Room See All
Room Type : Sunshine Suite See All
Room Type : Rainforest Suite See All

- Room rate are in Thai Baht, inclusive of service charge, tax and breakfast.
- Breakfast is charged at 295/Adult, 210/Child per person.
Child policy :
- Children 0-7 years old sharing with parents (without extra bed): compulsory breakfast charged at 210 Baht per day.
- Every child 8 years & above compulsory charge extra bed @ 800 Baht/night include breakfast
- Rate are not applicable during December 24 , 2013 - January 3 , 2014
- Check-in time is 14:00 Hrs, check-out time 12:00 Hrs.
- Full prepayment. Visa/master Card is accepted plus 3.5% service charge. Without credit card guarantee or cash deposit, no booking is confirmed.
- We reserve the right to change these prices, product details, all terms and conditions at anytime without prior notice.
Surcharges

Period
Extra Charge(Adult)
Extra Charge(Children)
Minimum Night(s) Stay
Asarnha Bucha Day & Buddhish Lent Day
20 Jul, 2013 - 22 Jul, 2013
600
-
-
H.M The Queen's Birthday
10 Aug, 2013 - 11 Aug, 2013
600
-
-
Close Sale
24 Dec, 2013 - 03 Jan, 2014
-
-
-
Makha Bucha Day
14 Feb, 2014 - 15 Feb, 2014
600
-
-
Chakri Memorial Day
06 Apr, 2014 - 07 Apr, 2014
600
-
-
Songkran Festival Day
13 Apr, 2014 - 15 Apr, 2014
600
-
-
Coronation Day
04 May, 2014 - 05 May, 2014
600
-
-
Asarnha Bucha Day & Buddhist Lent Day 2013
11 Jul, 2014 - 13 Jul, 2014
600
-
-
H.M. The Queen's BirthDay 2014
09 Aug, 2014 - 12 Aug, 2014
600
-
-
Surcharge for Long Weekend
25 Dec, 2014 - 05 Jan, 2015
1,000
-
-